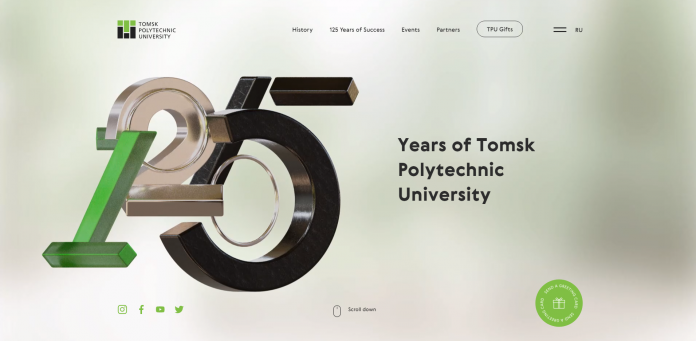 A website, devoted to the 125th anniversary of Tomsk Polytechnic University, has been listed as a winner of the Awwwards competition. Paraweb, a digital agency was engaged in the development and design of the website.
Awwwards is a competition of professional web designers and developers aimed at recognition and encouragement of the best innovative solutions in web design. The awards ceremony is annually held at the conference in large cities of the USA and Europe where the best websites of the year are presented.
The awards are won in two categories: design and development. Websites are evaluated based on four criteria: Design, Usability, Creativity and Content. The jury consists of interdisciplinary designers, developers, journalists and agency representatives from all over the world. The team of experts evaluate Talent, Efforts and Performance.
The TPU website was listed as honourable. An average evaluation of users from Ukraine, France, the USA, Switzerland, India and Indonesia to the TPU website was 7.48 out of 10.
The website also won a Mobile Excellence Award from the Awwwards organizers for Mobile Friendliness, Usability, Best Practices / PWA and Performance.
Awwwards gives prizes in such nominations as Sites of the Day, Sites of the Month and Sites of the Year as well.
On the website, a user can find multimedia historical notes about the university from the moment of its foundation collected in a timeline, facts about the university, stories of outstanding TPU graduates and reports about industrial and research projects. The users can have a look at the notes of the action entitled TPU, I love you!, within which graduates, professors, scientists and students leave words of gratitude to the university in the form of videos and greeting cards. Moreover, the users can send their greetings to the university leaving a personal greeting card.