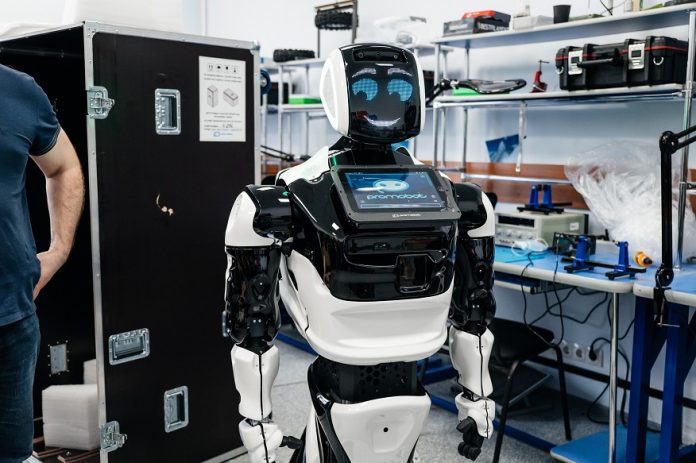 Tomsk Polytechnic University has become the first among Russian universities to own a robotic system from a domestic manufacturer Promobot. The system includes Promobot V.4, a service robot and Promobot Robox, a specialty of the manufacturer representing 10 educational systems. Promobot representatives note that it is the first procurement of this system in Russia.
The new robot and educational systems have already been delivered at the university. It is planned that the new robotic systems will be used at the TPU Division for Automation and Robotics already in the next study year.
"Promobot V.4 is a good example of a domestic robotic product that is successfully used in different countries. The new robot and building kits will be used in the educational process of students of all years of study depending on a task. Students, studying mechatronics, automation and metrology will use the robotic system," Andrey Yakovlev, Acting Rector of TPU, says.
"They will practically learn robotics programming, sensors, aspects of using robots indoors and interaction of a robot with a human, as well as general concepts and principles related to complex technical systems."
Promobot V.4 robot is a service robot of the company's latest model aimed at operating in mass gathering places. The robot can do the functions of a shop assistant, administrator, guide or airport worker. Arrays of Promobot Robox include such robot components as an interface board, a distance sensor, a servomotor and software. All the components included in Promobot Robox are components of a real robot used in 40 countries and are not toy or virtual models. Students will complete laboratory works using them.
"It may seem obvious, but it is important to learn robotics using real robots. We offer students a unique case: a Russian robot, exact copies of that is currently operating all over the world from the USA to Australia. Any successful solution may come from a university laboratory to our developers and then can be used in a robot, for instance, in an American airport," Oleg Kivokurtsev, Chief Business Development Officer, comments.
It must be added that the TPU Division for Automation and Robotics includes the Research Laboratory for Industrial Robotics, one of the largest laboratories in Russia equipped with KUKA manipulators.
Students of three TPU schools: the School of Computer Science and Robotics, the School of Advanced Manufacturing Technologies and the School of Non-Destructive Testing are trained in this laboratory. Students of the TPU Division of Automation and Robotics also learn robotics and mechatronics using Festo Robotino, KUKA youBot and develop their own robots.