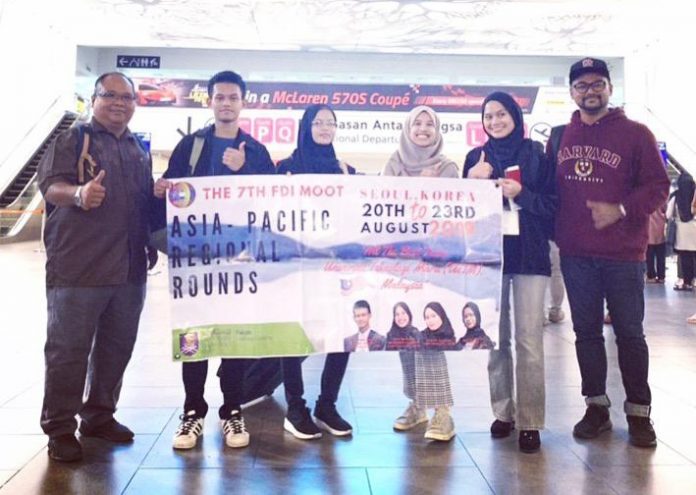 Foreign Direct Investment Arbitration Moot (FDI Moot) is an annual moot competition organised throughout the world. This prestigious competition is considered the premier international investor-State arbitration moot which is a well-known and awaited event every year. Universities from various countries have been participating in this competition ever since it was established in 2008. There are two stages involved within six months of the competition which are the Regional and Global Rounds. Teams from various universities will firstly compete in their respective region and the teams that come out on top would be the ones eligible to participate and compete in the Global Rounds.
Faculty of Law, UiTM Malaysia is represented by Muhammad Amir Haikal Mohamad Adnan as the Team Captain, Nur Fatihah Mohamed Azahari, Amirah Nabihan and Sarah Azahar. These four students have succeeded in Regional Rounds which was held in Seoul, Korea from 20 to 23 August 2019. They have secured a place in the Global Rounds which will be held in November 2019 in Miami, U.S.A. Special thanks to the Faculty of Law Arbitration Moot coach, Dr. Shahrizal Mohd Zin.
In this arbitration moot competition, hypothetical problem (moot problem) involving an investor-state dispute is created by the assigned committee which contains the facts, disputes and grounds to be argued before a Tribunal. The dispute would cater a situation where a State has violated its obligation under a Bilateral Investment Treaty (BIT) which causes an investor or investors to suffer loss.
Each team will send their representatives for every round as counsels for the Claimant or Respondent. The issues that are presented and mooted before the Tribunal pertain to the Jurisdiction of the Tribunal to hear the case and the Merits of the case which normally concern with expropriation and the right of the investors to fair and equitable treatment.
The FDI Moot is a great platform as it offers a unique forum where future lawyers come together not only to discover emerging talents, but also contribute in the development of investment arbitration as a whole. Mooters would have the opportunity to meet and learn from diverse group of people and expand their legal knowledge particularly in international investment law.
Source: Muhammad Amir Haiqal Mohamad Adnan
Edited by: Assoc. Prof. Dr Irwin Ooi Ui Joo