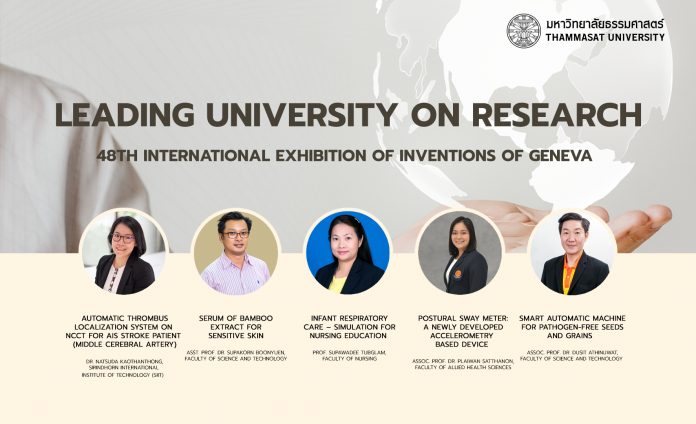 A team of researchers from Thammasat University created outstanding works and has won five awards from the 48th International Exhibition of Inventions of Geneva at Geneva, Switzerland which was held as the virtual event in March 2021.
The awards received consist of 3 silver medals and 2 bronze medals.
Automatic thrombus localization system on NCCT for AIS stroke patient (Middle cerebral artery) by Dr. Natsuda Kaothanthong from Sirindhorn International Institute of Technology (SIIT) won the Silver medal. This system helps analyze NCCT images to automatically locate the thrombus and the area of the brain that tends to have blood clots.
Serum of bamboo extract for sensitive skin by Asst. Prof. Dr. Supakorn Boonyuen, Faculty of Science and Technology also won the silver medal. The serum minimizes skin inflammation and wrinkles including free radicals. The use of bamboo leaf extracts as a cosmeceutical skincare is a research project that adds value to biological waste.
Infant respiratory care – simulation for nursing education by Prof. Supawadee Tubglam, Faculty of Nursing bagged the silver medal too. This is a teaching media innovation for simulation-based learning in nursing education: Infant respiratory care. It consists of automatic devices of adjustable bed and infant model used in nursing practice for pediatric patients with sputum retention.
Postural sway meter: a newly developed accelerometry based device by Assoc. Prof. Dr Plaiwan Satthanon, Faculty of Allied Health Sciences won the bronze medal. It is an assistive device that gives warning prior to loss of balance that could occur in daily activities of the elderly or those at risk of falling.
Smart automatic machine for pathogen-free seeds and grains by Assoc. Prof. Dr. Dusit Athinuwat, Faculty of Science and Technology bagged the bronze medal. This device is used to reduce pathogens in industrial crop seeds, controlling the water temperature using Microprocessor Controller.