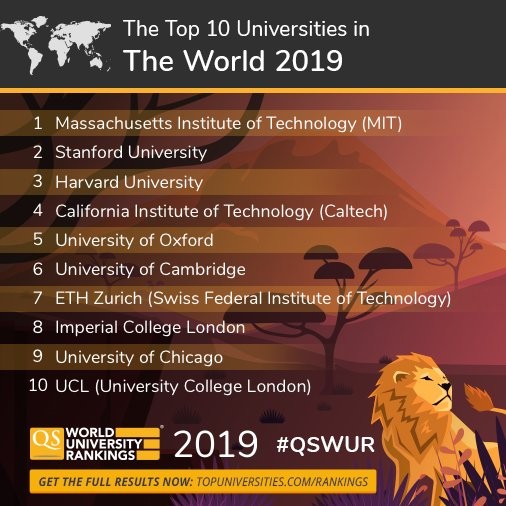 QS World University Rankings 2019
1,000 of the world's top universities are ranked in the table below, with Massachusetts Institute of Technology (MIT) topping the list for a record seventh consecutive year. MIT is one of five American institutions in this year's top 10, with all of the top four retaining their positions from last year.
Six different indicators are used to compile this ranking. For more information on how these are calculated, click here to read the methodology. A downloadable supplement is also available, containing detailed insights into this year's results. For more information on this, click here.
| | | |
| --- | --- | --- |
| | | United States |
| | | United States |
| | | United States |
| | | United States |
| | | United Kingdom |
| | | United Kingdom |
| | | Switzerland |
| | | United Kingdom |
| | | United States |
| | | United Kingdom |
| | | Singapore |
| | | Singapore |
| | | United States |
| | | United States |
| | | United States |
| | | United States |
| | | China |
| | | United Kingdom |
| | | United States |
| | | United States |
| | | United States |
| | | Switzerland |
| | | Japan |
| | | Australia |
| | | Hong Kong |