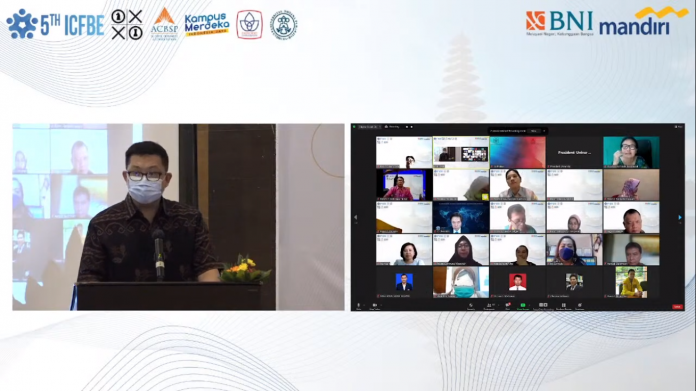 The Faculty of Business, President University (PresUniv), held the annual International Conference on Family Business & Entrepreneurship (ICFBE) in collaboration with Dhyana Pura University, Bali, and the Indonesia Strategic Management Society and under the theme On the Path to Recovery: Leadership, Resilience, and Creativity.
ICFBE 21 deliberately chose this theme because it is well aware that many companies, including family companies, are struggling to recover after more than 1.5 years of being hit by the Covid-19 pandemic.
A small part of the committee is located at the Grand Inna Hotel, Kuta, Bali, while the speakers and participants attended online. The speakers were academics and business practitioners, such as Prof. Ki-Chan Kim, Professor of the Management Catholic University of Korea, Prof. Ruth Rentschler, Professor of Art & Cultural Leadership from the University of South Australia, Dr. Hariyadi Sukamdani, Chairman of the Asosiasi Pengusaha Indonesia dan Persatuan Hotel dan Restoran Indonesia, Dr. Edhijanto W. Taufik who is also the founder of PT Mandaya Sehat, and Servatius Bambang P., the owner of PT Kutus Kutus Herbal.
PresUniv Rector Prof. Dr Jony Oktavian Haryanto, in his opening remarks, mentioned the strategic role of the family businesses.
Prof. Jony said, "Through the ICFBE 2021 event, I hope we can share knowledge and research results about how family businesses are recovering from the Covid-19 pandemic. We must immediately move on from the issues of succession, family vs. professionals, or the phrase "the first generation establishes, the second generation raises, the third generation spends," even though this is still a latent issue in family companies.
While the Governor of Bali, Dr Ir. I Wayan Koster, MM, welcomed the hybrid implementation of ICFBE 2021 in Bali. He hoped that this conference provides input for Bali's economic recovery after the Covid-19 pandemic.
"This pandemic provides a deep economic contraction for Bali. Because the Bali economy is very dependent on the tourism sector, which is very vulnerable to changes in external conditions, such as security disturbances and including the Covid-19 pandemic," said Governor Wayan Koster. That is why in the future, Bali must rearrange its economy. "We will position tourism as an additional source or bonus for the Bali economy," said Wayan Koster.