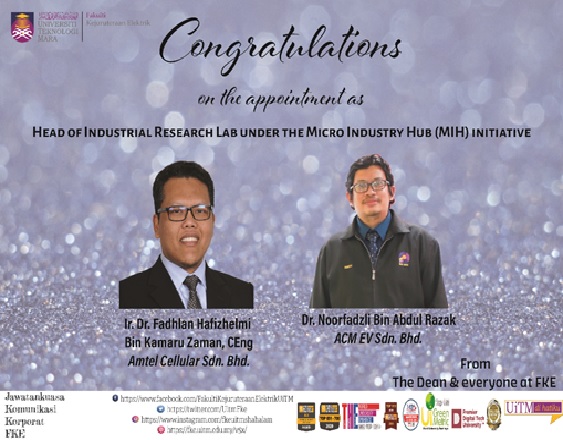 Micro Industry Hub (MIH) initiative was announced to be a strategic and sustainable Industry collaborative platform for human capital & local product development, publication, graduate employability and commercialization that benefits both Universiti Teknologi MARA (UiTM) and industrial practitioners. The strengths of both parties will be reflected in this initiative to produce high quality and new technology inventions.
Two Industrial companies involved in MIH initiative with UiTM are Amtel Cellular Sdn Bhd (AMCSB) and ACM EV Sdn. Bhd.
UiTM will provide laboratory space, basic infra, and utilities to the industry within UiTM campus nationwide. In return, the industry will provide opex for the laboratory operation and a special monthly allowance for the appointed members.
The first company, AMCSB is a subsidiary of Amtel Holdings Berhad, a public listed company with core business in GPS and Telecommunications.
UiTM and AMCSB will collaborate in research and development projects (R&D) for telematics, electronics, telecommunication and vehicle-related products. Henceforth, an Industrial Research Lab, namely Vehicle Intelligence and Telematics Lab (VITAL) is established to serve this purpose. This lab is led by Ir. Ts. Dr. Fadhlan hafizhelmi Kamaru Zaman, CEng., senior lecturer from Faculty of Electrical Engineering, UiTM. Other members are Ir. Dr. Ng Kok Mun, Ts. Dr. Lucyantie Mazalan and Assistant Engineer Mr. Ahmad Rais Johari.
The second company, ACM EV Sdn. Bhd. is a private limited company and has been operational for eleven years in Malaysia. Currently, the business is focused on Electro Mobility specifically for Electric Vehicle (EV).
Under MIH initiative, UiTM and ACEV Technologies Sdn Bhd agree to collaborate in R&D projects which related to EV chassis design, vehicle control, battery thermal management, telematics, data analytics and digital application platform.
A lab namely Innovative Electro Mobility (ITEM) has been established in the Faculty of Electrical Engineering, UiTM Shah Alam, Selangor. The lab is led by Ts. Dr Noorfadzli Abdul Razak with the assistance of the research fellows, Ts. Dr. Fazlina Ahmat Ruslan, Ts. Dr. Mohd Azri Abdul Aziz, Associate Prof. Ts. Dr. Mahanijah Md Kamal and Associate Prof. Ts. Ir. Dr. Hjh. Juliana Johari.
From the cooperation between the two parties, it is expected to produce high quality and new technology products for local and international usage. UiTM hopes to welcome more industrial practitioners to be future partners through this initiative.