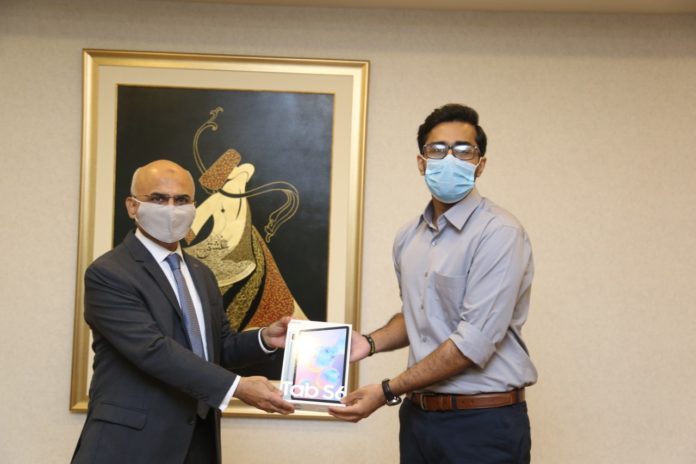 GIK Institute prides itself on a talented student body that outshines its peers across various top-tiered institutes of Pakistan. The office of research innovation and commercialization (ORIC) is proud to announce that Daniyal Akram, a fourth-year student at the faculty of Mechanical Engineering, has won the "Best Intern Award" for the Fresh Start Internship Program 2020 at Dawlance A.S Arcelik.
The award is reserved for the 5 top-performing interns, who are entitled to an employment opportunity at Dawlance upon graduation and an opportunity to intern at the Global Headquarters, Arcelik Turkey.
Although facing unconventional challenges during this academic year, through the relentless efforts and liaison of the placement office – ORIC, the award was secured in the GIK`s Basket. This year, Dawlance saw a total of 4426 applications sent in, for a series of 3 elimination rounds, which culminated down to the recruitment of 21 talented individuals, exclusively from NUST, LUMS, GIK, and IBA.
In a series of unique events, Daniyal was the only supply chain intern inducted for this year and successfully modified the ordering process for Dawlance using a comprehensive SAP-based framework. Daniyal went through a competitive recruitment process surmounting 3 different stages.
"As an engineer, with limited insights to supply chain management, getting accustomed to the in-house practices and industrial standards was a tough bargain. Perhaps even more nerve-wracking was realizing that I had to learn SAP and its codes, in a matter of 6 weeks, to secure my spot for the best intern". Remarked Daniyal as he spoke to the marketing team at GIK.
Currently, Daniyal is serving as the President and founder of the GIK Institute Consulting Group and as a supply chain intern at Nestle, Pakistan. He attributes his success not only to the opportunities GIK has to offer but to the holistic environment that on-campus student societies offer.
Speaking of his experience, he expressed that, "Effective time management and teamwork are just some of the skills that have been instilled in most students as they graduate from GIKI. Being involved with the consulting group, in specific, has allowed me to approach problems logically – a handy tool that I made the most out of at Dawlance."
Dawlance currently orders its raw materials factory wise. They have 3 production facilities and each factory runs the ordering formula MRP (what we need x quantity – what we already have) to reorder items that are short in their inventory. The MRP is executed on a single operating system and with 6000 parts per factory takes 1.5 days to run.
As an intern, Daniyal created a sorting framework to segment these 6000 parts into 53 distinct categories with no overlaps. Due to the parallel nature of the ordering process, the effective time has now been reduced to 0.5 a day as compared to the previous practice of 1.5 days, which stands out as a stupendous achievement.
His accomplishment is a living example of the unconventional learning experiences earned at GIK, forming connections with peers and supervisors while working remotely. This reflects the countless projects they conceived, worked diligently on, and followed through to completion, in entirety at GIK as their journey began.
GIK felicitated Daniyal on his endeavors and aspires to see many more to follow the example.