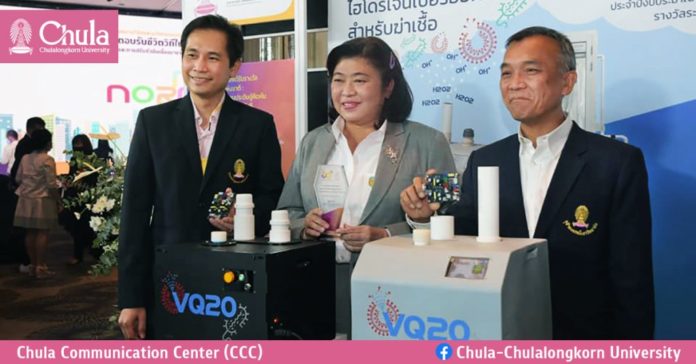 Chulalongkorn University's Aerosolized Hydrogen Peroxide Decontaminator is among the 11 outstanding New Normal lifestyle innovations chosen by the Ministry of Higher Education, Science, Research and Innovation (MHESI). It is used for sterilization of rooms and medical equipment to inactivate COVID-19.
Created by Prof. Sanong Ekgasit, Ph.D., Department of Chemistry, Faculty of Science, the decontaminator was one of the outstanding achievements, conducted in response to the New Normal way of living required after the COVID-19 outbreak, selected MHESI.
Dr. Wiparat De-ong, Acting Director of the National Research Council of Thailand (NRCT), and Prof. Dr. Sanong Ekgasit received the award from Prof. (Special) Dr. Anek Laothamatas, the Minister of MESRI on Thursday, December 24, 2020, at the Renaissance Bangkok Hotel.
The team of researchers designed and developed the VQ20 hydrogen peroxide mist nebulizer and the VQ20+HP35 atomizer that sprays hydrogen peroxide mist of smaller than 5 micrometers to decontaminate areas and medical equipment.
To date, the VQ20s are installed at the Research Department of the Royal Thai Police, the Department of Health Service Support, the Medical Engineering Division of the Ministry of Public Health, and the Chulalongkorn Demonstration School Primary Division.  The VQ20+HP35s have also been installed at the COVID-19 Infectious Diseases Department, Chongkonnee Building and Emergency Medicine Department Chulalongkorn Hospital, Thai Red Cross Society.
Once the pandemic is under control, the team will work with startup companies for developing other forms of equipment, such as sterilizers for milk bottles, plates, bowls, and glasses to be used in households with young children, the elderly, or the ill.