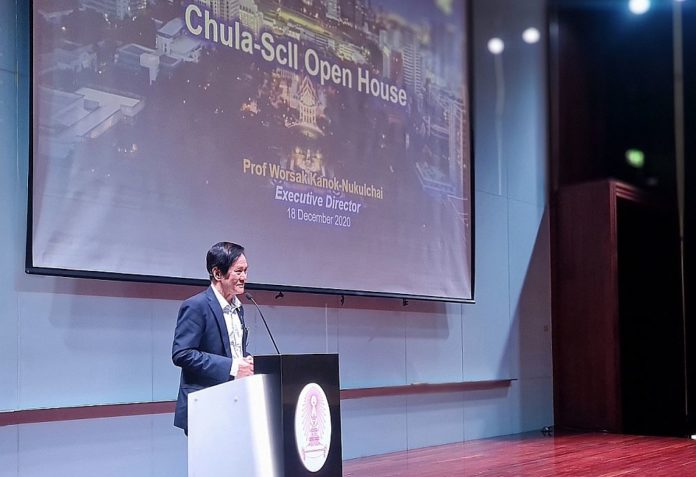 "While the world is facing cataclysmic changes, the future looks very uncertain. This is the time to empower yourself with knowledge, explore the unknown, and emerge as Global Pioneers," said  Professor Worsak Kanok-Nukulchai, Executive Director of Chulalongkorn School of Integrated Innovation (ScII) while welcoming students to the Open House on December 18, 2021.
For many participants, school-going students and parents alike, the ScII Open House was an occasion to learn about new developments in various fields and explore options that will prepare them for a better tomorrow.
"We prepare our students for an unknown future where technology disruption is upending societies that are confronted with global megatrends," Prof. Worsak told participants at the ScII event. "Amidst this, we prepare our students to serve the future — a future that is largely unknown to us," Professor Worsak remarked.
"We aim to create a new breed of global citizens who are fully empowered to take on new challenges."
"You may ask what would our graduates look like, and we envisage a future where you could be a Technology Innovator, Innovation Entrepreneur, Social Transformer, or a Digital Age Professional," Prof. Worsak told a group of starry-eyed youngsters, many of whom skipped school to learn more about ScII, and its flagship program — Bachelor of Arts and Science in Integrated Innovation (BAScii), he continued.
"The hallmark of our program is that we have a unique international curriculum. We embrace transdisciplinary collaboration while focusing on four strategic areas — Digital Economy, Artificial Intelligence and Robotics, Health and Wellbeing, Sustainable Development, and Inclusive Community and Smart City," he added.
:You can immerse yourself in an innovative ecosystem with investors, entrepreneurs, and government agencies to create startups either for profit or for societal gain."
ScII is the newest school established by Chulalongkorn University, and this is no ordinary place. "For this is a school built for the new generation, the Digital natives, and here, we impart education to create Global Citizens for the Future," Professor Worsak concluded.
Stressing the importance of the international approach and mindset was Ms Daria Dmitriyeva, International Affairs Officer, and providing an overview of the BAScii program was Dr Warinya Chemnasiri, Director, Academic Affairs. A group of first-year and sophomore BAScii students also narrated their experiences. The event was streamed live.