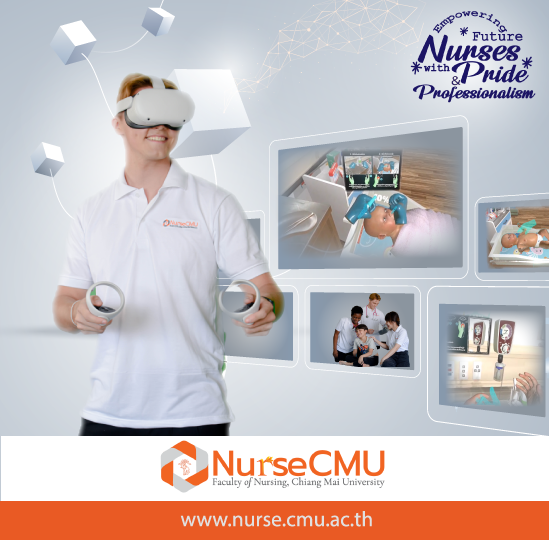 The devastating effect of the COVID-19 pandemic has been seen in hospitals,  communities, and economies. The pandemic also forced the world, particularly the education sector, to adapt and change resulting in an uptake of disruptive innovation that forever changes higher education.
At NurseCMU, the Chiang Mai University Faculty of Nursing in Thailand, the in-person clinical practice was greatly limited by the pandemic. Students spent more time in simulation with high fidelity manikins and other activities meant to provide students with clinical skills while observing social distancing.
Finding new ways for students to gain clinical experience suddenly highlighted certain opportunities for nursing education.
Dean Thanee Kaewthummanukul, NurseCMU's Dean since October 2020, immediately implemented his vision for keeping NurseCMU at the forefront of nursing education and research, building on the vision established by former Dean Wipada Kunaviktikul during her four terms as Dean.
Dean Thanee felt that augmented and virtual reality (AR and VR) could address many of the problems encountered during the COVID pandemic. The use of AR/VR technologies is increasingly part of health professional education. However, content is predominantly geared towards medical students and not appropriate for the Thai context.
NurseCMU is the first faculty of nursing in Thailand to embed AR/VR teaching methodologies into its curriculum, working with programmers to develop tailored nursing content.
AR/VR will be implemented beginning in the second semester of the 2021 academic year. This technology helps to solve longstanding issues in clinical practice: how do you give students the opportunity to practice their skills with vulnerable populations while maintaining the safety of the patient?
Initial development focused on the baccalaureate program with VR simulating work in the neonatal and adult intensive care units. Patients in these units are critically ill and space is limited due to the specialized equipment needed. VR provides a safe environment where students can practice their skills in a VR room identical to one they would see in the hospital.
Each student receives ample time to practice their skills under different scenarios and there is no risk to the patient. In fact, VR will allow students to be more prepared for in-person clinical practice in these settings having practiced their skills virtually.
VR is also being used to allow students to experience various scenarios during labour and delivery, while AR will be used to help students learn how to work with patients suffering from mental health issues through an interactive website. Students will be able to meet and interact with patients with different diagnoses and will learn firsthand how their choices will elicit different emotional responses.
As society becomes increasingly reliant on new technologies, nursing education must continue to embrace these technologies to remain relevant, to maintain the interest of students and to take advantage of the new opportunities offered through innovation. At NurseCMU, the future is now.