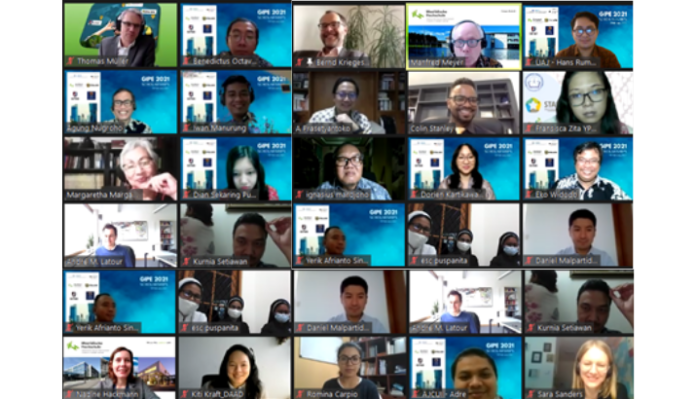 Indonesia's government Kampus Merdeka- Merdeka Belajar initiatives urge higher education institutions to be more flexible and adaptive to give more room for improvement for students to create and explore their skills. Most importantly, students should be able to apply concepts from their classes in a real situation in accordance with their respective fields of competency.
Exposing students to real-life professional situation handling clients and working on a project, Global Intercultural Project Experience (GIPE) is a multinational project funded by DAAD which involves exceptional students in four continents, namely Atma Jaya Catholic University (Indonesia), Westphalian University of Applied Science (Germany), Namibia University of Science and Technology (Namibia), and San Pablo Catholic University (Peru).
GIPE is an ambitious project. The idea of a global project leaves students with an option to deal with four different time zones and deal with diverse cultural upbringing through an online platform. They need to jump into a new rhythm, so the team works smoothly.
More into it, GIPE seeks to challenge different concepts and aspects into one common idea to provide a solution for its client. There are, for the least, five plans of aspects to work together: Business Model and Tourism Sustainability, Website and Booking Systems, Educational and AR, Digital Marketing, and Smart Farming and IoT.
On February 18, Rector of Atma Jaya Catholic University, Dr. A. Prasetyantoko, President of Westphalian University of Applied Science, Prof. Dr. Bernd Kriegesmann, and Chief Executive of Tarakanita Foundation dan Pimpinan PUSPANITA Eco-Spirit-Center, Dr. Margaretha Margawati have signed an agreement to remarks the launch of GIPE 2021. After the tremendous success in Namibia, Atma Jaya is honoured to host its second year in collaboration with the Yayasan Puspanita.
Rector of Atma Jaya Catholic University, Dr. A. Prasetyantoko, congratulated the program and welcomed all partners involved. Prasetyantoko appreciates the efforts to bring more attention to the social-cultural aspects and inclusivity issue, which is in line with the current difficult situation due to the Covid-19 pandemic.
"A very relevant topic with the current state, where people everywhere are having difficult situations amid the Covid-19 pandemic. Hopefully, this program may contribute to bringing betterment to our future society."
The GIPE 2021 will bring the topic on the Construction of a Digital Platform for Ecological Tourism. Along with other students, 8 Atma Jaya students from Business Administration Program, Mechanical Engineering, and Information System will collaborate to handle Puspanita Eco-Spirit-Center located in Ciawi, West Java.
Chief Executive of Tarakanita Foundation dan Pimpinan Puspanita Eco-Spirit-Center, Dr. Margaretha Margawati, said," Puspanita is glad to join with universities and work with the young generation to manage digital space and use technological advancement to introduce environmental and sustainability issue, which is an important topic for Puspanita."