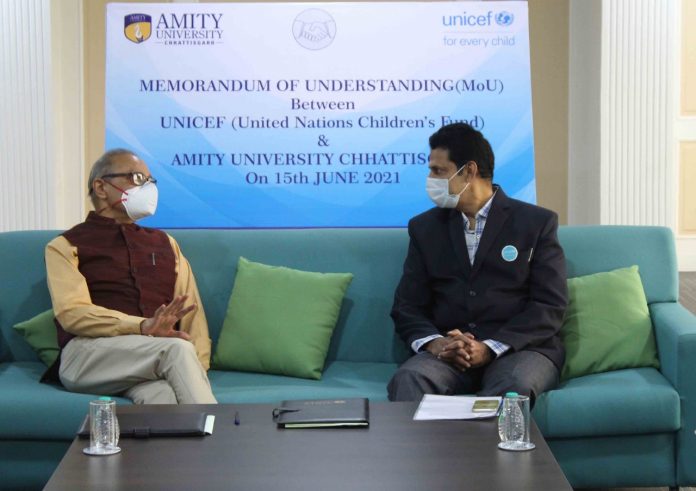 Amity University Chhattisgarh (AUC) and UNICEF Chhattisgarh signed a Programme Corporation Agreement for Jal Jeevan Mission to ensure clean tap water supply in every rural home. This noble and life changing mission has taken deep roots and is taking a shape of people's movement.
The tribal region of Chhattisgarh has been battling with the issue of groundwater depletion and chemical contamination. Understanding the need and a visible gap for Clean Water, the priority is given on water quality surveillance through active participation of the university's deployment of B. Tech Graduates as Project Associates as well as involving the local community. Chhattisgarh State has planned to provide 100% Functional Tap Water Connection (FHTC) by 2023 thus contributing to UN SDGs.
To achieve the objective of providing improved and sustainable drinking water services in
rural communities through Jal Jivan Mission, the Project associates from Amity University Chhattisgarh would focus on water distribution networks, water quality management, sources sustainability, sustainable service delivery (including operation and maintenance), building professional capacity and strengthening decentralized governance.
This includes overall monitoring, establishment and strengthening decentralized contract management systems that are timely, transparent, accountable and adhere to state government guidelines for the mission.
Amity University Chhattisgarh, built on the genesis of innovation and research would also work on New water purification technologies like smart water purifiers and auto- aintenance systems, paving the way to a better future. The introduction of IoT technology, sensors, and data-driven approach in water purification by tech-support would be showing the ray of hope to solve this problem. W
ith IoT technology real-time tracking of input water quality, water consumption, and filter use is being tracked which assures safe drinking water, as endorsed by Prof. R K Pandey, Vice Chancellor Of Amity University Raipur, Chhattisgarh.