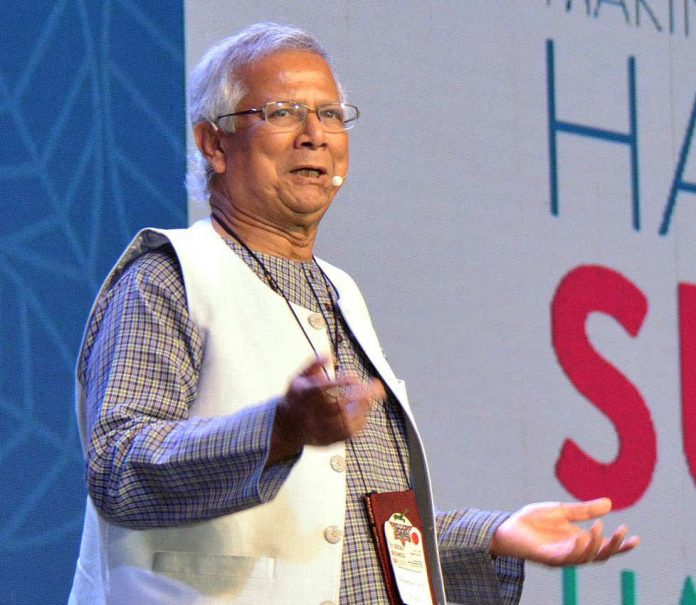 Ten years after the launch of the Yunus Centre at AIT, the Asian Institute of Technology (AIT) was host to the biggest-ever Social Business Day to date. The 9th Social Business Day witnessed participation from over 1,500 delegates from 62 countries. Organized each year to celebrate the Social Business Movement led by Nobel laureate Prof. Muhammad Yunus, the Bangkok event set the bar even higher for Social Business Day celebrations, a fact Prof. Yunus proudly mentioned.
"Bangkok has outdone everybody, and it has established a new benchmark for organizing Social Business Days," Prof. Yunus said. AIT came in for special mention by Prof. Yunus, who thanked AIT's Yunus Centre, its Director Dr. Faiz Shah, and AIT President Dr. Eden Y. Woon. "A big round of applause for AIT," the Nobel laureate added.
President Woon described the event as a momentous occasion that coincided with the celebrations of AIT's 60th anniversary as well as the 10th anniversary of the Yunus Centre itself. AIT's Yunus Centre was the first such centre when it was established in 2009, a first that has now been replicated in 76 universities around the world. The AIT President added that AIT would play a lead role in collaborating with Yunus Centres worldwide so that they can all work in a more united and uniform fashion in the field of social business. "AIT started with a mission of social impact, and today we continue with this tradition with innovations, internationalization, entrepreneurship, and a closer relationship with enterprises," Dr. Woon said.
Prof. Yunus stressed that the event went beyond numbers since the movement now attracts a wide diversity of participants. "While a Social Business Day is a family gathering, the occasion provides us with an opportunity to widen our family," he said. Complimenting the large contingents from Japan, China, Taiwan, and Bangladesh beside host Thailand, Prof. Yunus added that Thailand has now positioned itself among the top countries in terms of social business.
Quoting examples of participatory diversity, Prof. Yunus mentioned that the Paris Olympics of 2024 would be conceived as Social Business Olympics. Olympians, representatives from the Olympic organizing team, and the Mayor of Paris are participating in this event, Prof. Yunus added. The second example came from Japan, where comedians have joined the Social Business Movement and are incorporating social business into their profession.
The Nobel laureate came out against what he termed a "crude way" of measuring happiness, which equates happiness with money. Drawing attention to economic theory, Prof. Yunus criticized conventional economic theory as being the "real culprit" for the premise that regards human beings as driven by self-interest rather than as creative beings.
"Social Business is an idea conceived by Prof. Muhammad Yunus as a non-dividend business designed to solve human problems," said Ms. Lamiya Morshed, Executive Director, Yunus Centre, while delivering the welcome address on 28 June 2019. Narrating the history of Social Business Days, she recounted how it began with a single day event with 400 participants in Dhaka, Bangladesh. Today, we even have a registrant from Antarctica, she added.
Keynotes were delivered by Ms. Lamiya Morshed, Executive Director, Yunus Centre; Dr. Eden Y. Woon; Mr. Thapana Sirivadhanabhakdi, Chair, C-asean; Emmanuel Faber, Chief Executive Officer, Danone; Dr. Armida Alisjahbana, Executive Secretary, ESCAP; Mechai Viravaidya, Chair, Mechai Viravaidya Foundation, and Mr. Suphachai Chearavanont, CEO, CP Group. Video messages were delivered by António Guterres, UN Secretary-General, José Graziano da Silva, Director General of the Food and Agriculture Organization (FAO), Malala Yusufzai, Nobel Peace Laureate, and actor Matt Damon and Gary White, co-founders of water.org. The event was live-streamed to viewers all over the world.
Father Enzo Fortunato, Spokesperson of The Holy Convent of the Papal Basilica of Assisi announced that the Vatican would honour Prof. Yunus with the "Lamp of Peace" award, bestowed for promoting peace and harmony.
This years' event theme was "Making Money is Happiness, and Making Others Happy is Super Happiness." The two-day event consisted of five plenary sessions, nine concurrent panel discussions, eight country forums, 10 Pecha Kucha presentations, youth action forums, and social business announcements.
Eleven agreements were announced at the two-day event, including a joint venture between Yunus and Yoshimoto Social Action (YYSA), BCPG Democratization of Renewable Energy, the Danone Nations Cup, Yunus Thailand, CP Group Thailand Action Tank, establishment of New Yunus Centres at the National Taipei University of Business and Albukhary International University Malaysia, Sustainable Social Business City in South Africa, Social Business for Peace in Colombia, Vishuddh Recycle, Social Business Week at the United Nations Headquarters, and the Japan Corporate Action Tank.
Dr. Faiz Shah, Director of AIT's Yunus Centre stated that "Hosting the world's biggest social business gathering at AIT Bangkok with support from Thailand's leading companies is not only a fitting celebration of AIT's 60th anniversary; it is a recognition of the Center's decade-long efforts to mainstream social innovation and entrepreneurship into the business ecosystem."