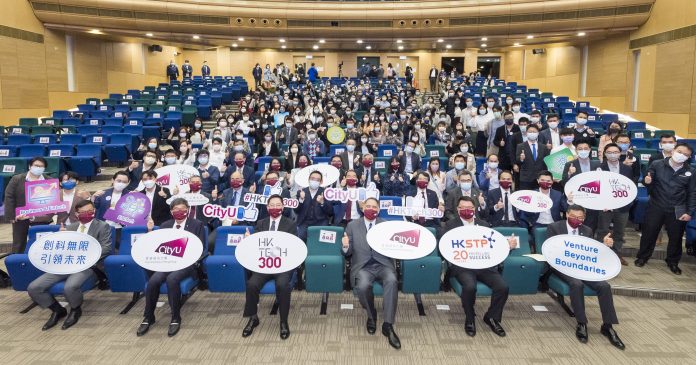 Fledgling entrepreneurs are eager to start their own ventures and break new ground as innovation and start-ups begin to show promise. To nurture tech talent and entrepreneurs, City University of Hong Kong (CityU) launched HK Tech 300, a large-scale flagship innovation and entrepreneurship programme in March 2021 with an allocation of HK$500 million. Themed "Venture Beyond Boundaries", the programme helps students, alumni, researchers and other members of the public to kick-start their entrepreneurial journey. This substantial funding and long-term commitment make HK Tech 300 the largest university-based entrepreneurship programme in Asia. In the first year of operation, the programme offered more than 1,000 participants entrepreneurial training, gave seed funding to over 300 teams, and provided nearly 50 start-ups with up to HK$1 million each in angel funding.
Specially designed flexible 4-stage programme
HK Tech 300 has created a 4-stage stage approach to creating 300 start-ups in three years: entrepreneurial training offered by professional organisations, seed funding for early-stage idea validation, angel fund investment to help start-ups grow, and venture capital investment to nurture nascent enterprises until take off. This flexible programme allows applicants to join any of the first three stages based on their specific capabilities and needs.
The programme has so far awarded 302 start-up teams a seed fund of HK$100,000 each, and another 49 start-up companies angel fund investment of up to HK$1 million each. These start-ups specialise in multiple domains, ranging from deep tech, information and communications technology, artificial intelligence (AI), and biotech and health technology to fintech and environmental and educational technology.
CityU is one of the world's fastest rising universities, ranking 1st in Hong Kong for Citations per Faculty in the QS World University Rankings averaged over five years from 2017 to 2021. According to a Stanford University study, over 170 CityU faculty members were among the top 2% of the world's most cited scientists in 2021. In addition, CityU was named one of the Top 100 worldwide universities for approved U.S. Patents by the National Academy of Inventors (NAI), having been granted the most U.S. utility patents among universities in Hong Kong for five consecutive years.
"Thanks to our pioneering science and technology research, CityU has won numerous prestigious international awards and made invaluable contributions to the betterment of society. We remain committed to bringing about positive change to industries and the community at large through the transfer of knowledge," said President Way Kuo of CityU. Another key feature of HK Tech 300 is openness as the programme is not limited to CityU students and alumni. The general public is welcome to use CityU's patented technologies to develop tech products and services, thereby accelerating technology and knowledge transfer. President Kuo said he is proud of the teams and start-ups spawned by HK Tech 300, noting that they are committed to transforming advanced technologis developed by CityU into applications that bring about real-world benefits.
Translating excellent research into practical applications
HK Tech 300 offers career alternatives and opportunities by helping Hong Kong scientists and researchers to create start-ups. As of April this year, over 20% of the teams and companies awarded seed funding and angel fund investment were established by CityU PhD students and researchers, and 10% of awardees were members of the public.
Thanks to the substantial funding allocated to HK Tech 300, the number of start-ups with diversified backgrounds and specialities is gradually increasing, and several have attracted interest and investment from venture capital funds. These encouraging results confirm the value of CityU's unwavering commitment to fostering a vibrant innovation and technology ecosystem in Hong Kong.
More details can be referred to https://bit.ly/3Roi3yQ.