EduData Summit Online Series
QS is launching a new EduData Summit Online Series starting on 03 June, exploring how higher education can meaningfully use data to drive innovation for global benefit.

QS In Conversation, a series of podcasts and live online panel discussions unpacking global trends in higher education, online learning, employability and the student experience.
Latest session: Student Engagement In A Digital World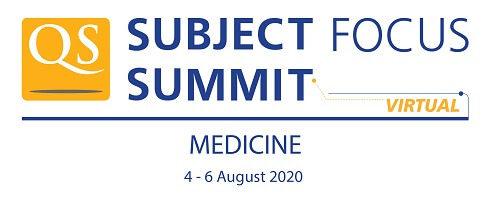 QS Subject Focus Summit - Medicine | 4-6 August 2020 | 2.00 - 5.00pm (Thailand Time)
QS and Faculty of Medicine, Chulalongkorn University are organizing the first-ever online meeting of educators in medicine from 4-6 August 2020. Themed "The Future of Medicine: Challenges and Opportunities in this Disruptive Era", the 2020 Subject Focus Summit Medicine will bring together experts to discuss and connect.

QS APPLE 2020 Virtual Conference | 25-27 November 2020
Join us to discuss the power of partnerships to tackle climate change at the first virtual QS APPLE 2020 conference and exhibition. Themed "New World Partnerships for Resilience and Climate Action", the 2020 event will take place from 25 to 27 November 2020.

QS MAPLE 2020 Virtual Conference | 16-17 September 2020
QS-MAPLE conference and exhibition is going online in 2020. Book your ticket for this exciting event.
EDUWEEK ASIA 2020 | 24-28 August 2020
Most of the education institutes realize that the education sector is becoming more competitive in the digital age. The educators and education institutes are adopting digital technologies, methodologies and mindsets to transform their operations, teaching and learning to improve learning experience and business outcomes.
With currently more than 600+ confirmed attendees, the free-to-attend Eduweek Asia 2020 featuring key events on Student Recruitment & Marketing, Next Generation Learning Spaces & E- Learning will aid education institutes in improving their overall business operations and student experience.
GIIS, NTU, SMU, UNSW and more will be sharing best practices in student recruitment, learning spaces and E-learning during COVID-19.