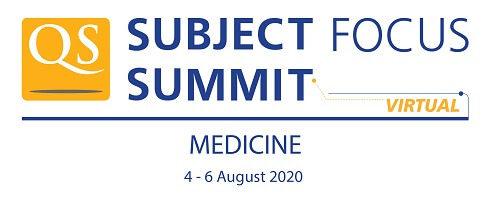 QS Subject Focus Summit - Medicine (Virtual)
QS and Faculty of Medicine, Chulalongkorn University are organizing the first-ever online meeting of educators in medicine from 4-6 August 2020. Themed "The Future of Medicine: Challenges and Opportunities in this Disruptive Era", the 2020 Subject Focus Summit Medicine will bring together experts to discuss and connect.

Organizing Partner: Chulalongkorn University

EDUWEEK ASIA 2020
Most of the education institutes realize that the education sector is becoming more competitive in the digital age. The educators and education institutes are adopting digital technologies, methodologies and mindsets to transform their operations, teaching and learning to improve learning experience and business outcomes.

With currently more than 600+ confirmed attendees, the free-to-attend Eduweek Asia 2020 featuring key events on Student Recruitment & Marketing, Next Generation Learning Spaces & E- Learning will aid education institutes in improving their overall business operations and student experience.

GIIS, NTU, SMU, UNSW and more will be sharing best practices in student recruitment, learning spaces and E-learning during COVID-19.

QS APPLE 2020 Virtual Conference
Join us to discuss the power of partnerships to tackle climate change at the first virtual QS APPLE 2020 conference and exhibition. Themed "New World Partnerships for Resilience and Climate Action", the 2020 event will take place from 25 to 27 November 2020.

QS MAPLE 2020 Virtual Conference
QS MAPLE conference and exhibition is going online in 2020. Themed "Innovative Middle East and Africa: Higher Education-led Economic Diversity and Globalization", the event will be held from 16-17 September 2020. The online conference will gather the academia and thought leaders to deliberate on how higher education can play a role in diversifying, globalizing and bringing a positive shift in the Middle Eastern economies.

QS Subject Focus Summit - Hospitality and Leisure Management
QS, Prince of Songkla University and Taylor's University are organizing QS Subject Focus Summit Hospitality from 20-21 January 2021 in Phuket, Thailand.

Themed "Sustainable and Resilient Solutions in Hospitality and the Tourism Industry", the summit will bring together together experts and leaders to discuss the future of hospitality and the tourism industry and how sustainable models should be implemented.