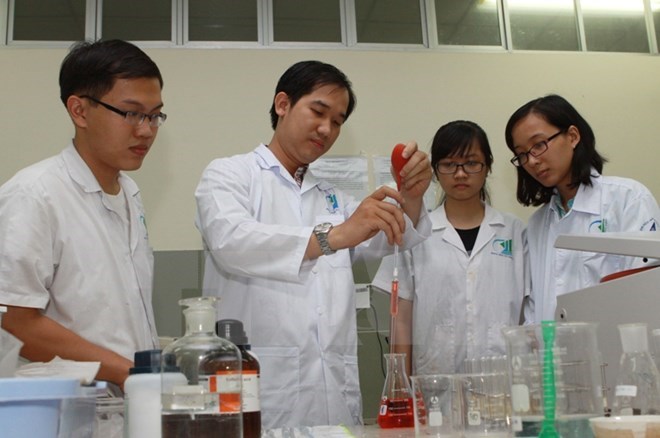 Education professionals shared Australia's experience in managing universities to meet the standard of world university ranking systems at a recent workshop conducted in Hanoi.
Tran Cong Phong, Director of the Vietnam Institute of Education Sciences shared that higher education sector in Vietnam has progressed rapidly, contributing to manpower training in recent years. Local institutions have also been putting greater emphasis on university ranking and governance. Many universities have been constantly conducting self-assessment and be involved in quality certification on regional and global tiers.
Crag Chittick, Australian Ambassador to Vietnam and Joanna Wood, Education Counsellor of the Australian Embassy shared some insights to the success of Australian universities.
The success of Australian universities can be accredited to:
Cooperation and competition

Universities in Australia grant scholarships to talented students and sponsor studies to promote their image and build their brand. At the same time, competition fuels their efforts to reach higher positions in global rankings.

High-performing graduates

The rate of graduates finding full-time jobs within four months upon graduation increased from 70 percent in 2013 to 88 percent in 2016. Approximately, 37.1 percent of Australian individuals aged 25-34 holds a bachelor's degree or above.

Quality of institution proven by global standards
Adding on, John Molony, Executive Director of Deakin International at Deakin University pointed out that no Vietnamese universities were listed in global rankings except for a few that are named in the QS Asian University Rankings.
To be part of the global ranking systems, universities in Vietnam will have to make greater efforts to heighten the (1) reputation of their specialised staff (2) reputation of graduate recruiters (3) rate of students per faculty (4) citation index of each faculty (5) faculties' internationalisation (6) rate of foreign students. Universities will also need to ensure recognition among domestic and international specialists while bettering their research publications.
Source: Vietnam Net