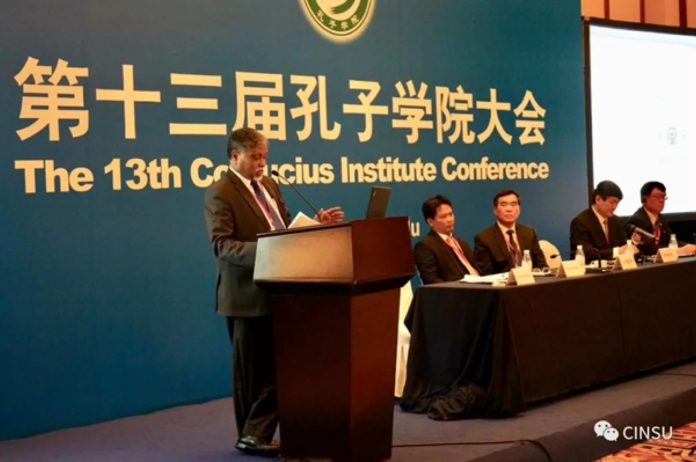 Vice Chancellor Professor Atiqul Islam chaired a Presidents' Forum session at the 13th Annual Conference of Confucius Institutes held in Chengdu, located in the province of Sichuan, China from 3-5 December, 2018. The Confucius Institute Conference is the largest annual gathering of Confucius Institute stakeholders, attended by the leaders of all hosting universities of Confucius Institutes across the world, leaders of partner universities in China, high officials of the Confucius Institute Headquarters and the Chinese government as well as the Chinese Directors and Local Directors of Confucius Institutes and Confucius Classrooms. This is the central platform where the activities of Confucius Institutes (CIs) are collectively discussed and directions and suggestions about future planning and operations of CIs are given from the concerned authorities. This year, more than 1,500 representatives from 154 countries gathered to share opinions and suggestions for the development and reform of the Confucius Institutes, demonstrating the characteristics of the Confucius Institute's big family: "inclusive, innovative and colorful". The Vice Chancellor of North South University (NSU), Professor Atiqul Islam, Dr. Zhou Weiwei, Chinese Co-Director of CI at NSU, and Dr. Md. Mahmudur Rahman Bhuiyan, Local Co-Director of CI at NSU attended the conference.
The theme of the 13th CI conference was "Reform and Innovation for Development, Joining Hands to create our Future Together." During the two-day conference, two special forums, eight presidents' forums and 20 workshops were held. The NSU Vice Chancellor, Professor Atiqul Islam chaired a president's forum titled, "Professionalization of the Directors and Teachers". He also gave a presentation on the Professionalization of CI Directors and Teachers in South Asia. In his presentation and speech as the session chair, Professor Islam shed light on the barriers that limit the professionalization of CI directors and teachers in South Asian within the global context and offered specific recommendations to overcome those barriers. Among his recommendations were:
First, the term of Chinese teachers should not be less than 2-3 years.
Second, both of the host universities of CI could organize pre-job and on-the-job training programs for CI teachers and directors, which may meet local needs in South Asian countries by integrating their academic resources.
Third, the partner universities could establish online resource-sharing platforms and provide distance education support.
Fourth: the local host universities could strengthen logistical support for Chinese teachers by offering them consultation on local life and support on visa affairs and, thus, could relieve the teachers' regarding life and work in a foreign land.
Fifth, there should be more economic incentives to increase the local Chinese language teachers' pool.
Finally, a local teacher internship base could be established at the host universities to facilitate the development of CI teachers.
Professor Atiqul Islam's recommendations were highly recognized and appreciated by the other experts on the panel.