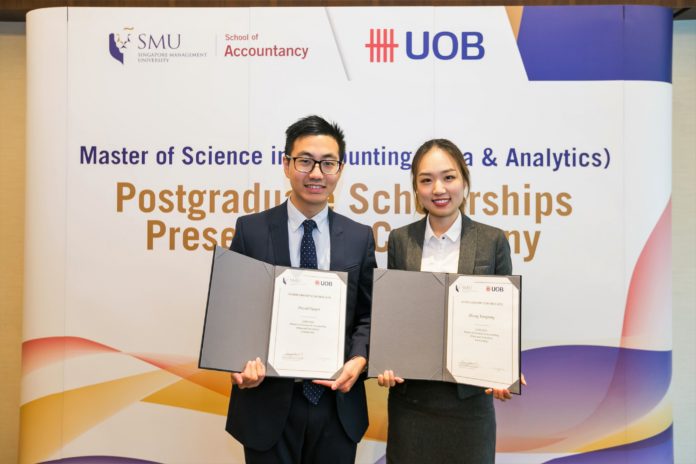 United Overseas Bank (UOB) has set up a scholarship with Singapore Management University (SMU) to deepen the data skillsets among Singapore's pipeline of talent. This is to prepare them for the increasingly significant role data plays in driving informed business decisions and strategies for organisations.
This is the first full-tuition scholarship in Singapore to support top students in an accounting and data analytics tertiary programme.
The UOB and SMU's scholars will undergo SMU's Master of Science in Accounting (Data and Analytics), or MSA, programme without worrying about its financial costs.  In addition, they will also be able to deepen their skills and expertise through a 12-week internship programme at UOB.
Mr Richard Lowe, Chief Data Officer, UOB, said, "At UOB, we are committed to developing the skillsets needed to succeed in the digital economy. The UOB-SMU MSA Scholarship is one way in which we can help spur higher learning in the area of data and analytics – something that is vital in our data-driven and interconnected world."
SMU is the first and only tertiary institution in Asia to offer further specialist study in data and analytics through its MSA programme. SMU's MSA programme, which may be completed full-time or part-time, is designed for professionals who are interested in developing expertise in applying data technology into their domain knowledge to solve business problems, especially in the finance and accounting sectors.
Dean, School of Accountancy and Lee Kong Chian Chair Professor of Accounting Cheng Qiang said, "We are grateful to receive UOB's support for two of our best students with this scholarship and for their recognition of the value of our MSA programme not only to its students but, through them, to the financial sector as a whole.
"The MSA programme is the first specialised Master programme in accounting data and analytics in Asia. Unlike other postgraduate analytics programmes, the MSA's data and analytics track goes deep into the application of data technology in the accounting and finance domain. Armed with the knowledge of machine learning and data analytics, our graduates will be better equipped to bring value to their workplaces, from banks and audit firms to technology companies."
Inaugural UOB-SMU MSA scholarship awarded to two recipients
The UOB-SMU MSA scholarship has been awarded to two enterprising students in the MSA programme.  Twenty-nine year-old David Djapri and 22 year-old Zhang Tongtong were selected to be first two recipients of the scholarship as they had achieved outstanding academic results. Messrs Djapri and Zhang also impressed the scholarship panel with their entrepreneurial spirit and passion and drive to contribute to the finance and accounting industry.