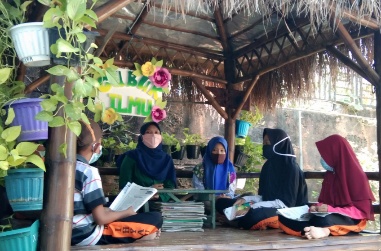 Community Service Program (KKN) of Nahdlatul Ulama University Surabaya (Unusa) created a science hut to guide online learning for children in the Banyuurip Village area, Kedamean District, Gresik.
This is done to guide learning, love nature and train motoric children in the region.
The head of the 59 KKN Unusa group, Yulianti, explained that studying in nature or in an open space can make children more active and can explore their desires. In addition, studying in an open space can eliminate boredom and boredom while learning is carried out at home.
"So children do not get bored while studying, and we guide these children who find it difficult to learn during online learning at school," said Yulianti, Tuesday , 15 Spetember.
By applying the project-based learning method where every meeting, the children work in groups. Some of the works that have been made are frames from cardboard, pencils from newspapers, and filtering cloudy water into clear water. "This is to train children's creativity in learning in the science hut," said Yulianti.
In addition, the learning process at the Science Shack also combines learning while playing. Playing is a common thing for your little one to do. "The characteristic of elementary school children is that they like to play, especially in the lower classes," said Yulianti.
So that children can continue to learn, the KKN 59 group creates the concept of learning in nature by learning while playing. The games applied are traditional games, namely snakes and ladders and giant clompen (mathematics, language, togetherness, and sportsmanship lessons).
In Banyu Urip Village, there are still people who do not wear masks when they leave their homes, so KKN group 59 also distributed masks to local residents. The government's appeal is that people are encouraged to work from home, even so, maintaining health and taking care of their faces must be done so that even in a pandemic condition they remain healthy, and happy so that immunity increases.