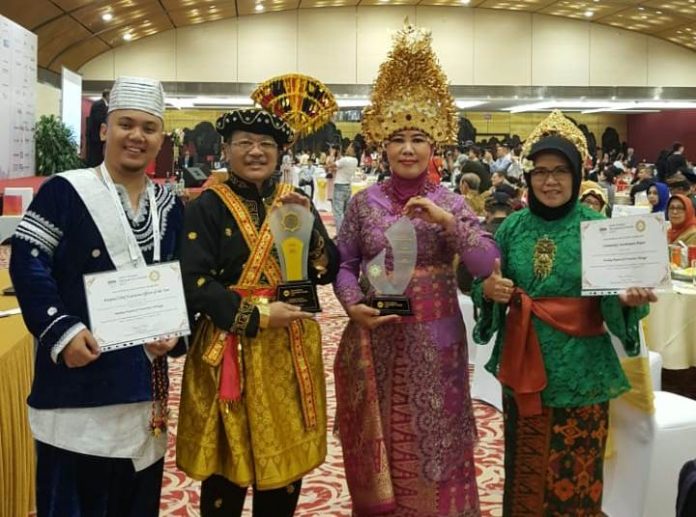 UNIVERSITAS AIRLANGGA NEWS – Universitas Airlangga Teaching Hospital (RSUA) has made another international achievement. RSUA won three awards at the 2019 Asian Hospital Management Awards, Hanoi, Vietnam on Thursday, September 12. The participants of 2019 AHMA reached 1452 from 39 countries. Furthermore, Prof. Dr. Nasronudin, dr., SpPD., KPTI., FINASIM, Director of UNAIR Hospital explained that hospital continues to pursue its mission to be a teaching hospital with international standard.
"Three awards won by RSUA includes Gold Award: Community Involvement Project, Excellent Award: Hospital Chief Executive Officer of the Year, and The Best Male of National Costume," he stated.
Furthermore, Prof. Nasron said that the hospital always makes efforts to establish and expand international networks. He also ensured that UNAIR Hospital has a global outlook, well-mannered, and rich in culture.
"UNAIR Hospital showed the world that Indonesia with 2,883 hospitals must be taken seriously in the world," he said.
Furthermore, Prof. Nasron also emphasized that by promoting hospital quality; hopefully, Indonesian people will seek medical treatment domestically instead of going abroad. UNAIR Teaching Hospital needs to play an active role in rural hospitals across Indonesia, especially in improving the professionalism of human resources.
"UNAIR Hospital does not only prioritize health services but also serve as a center of collaboration and integration in supporting government and Airlangga program in the implementation of education and research," he explained. "UNAIR Hospital will continue to support BPJS (Health Care and Social Security Agency) program and develop non-BPJS creation and innovation," he added.