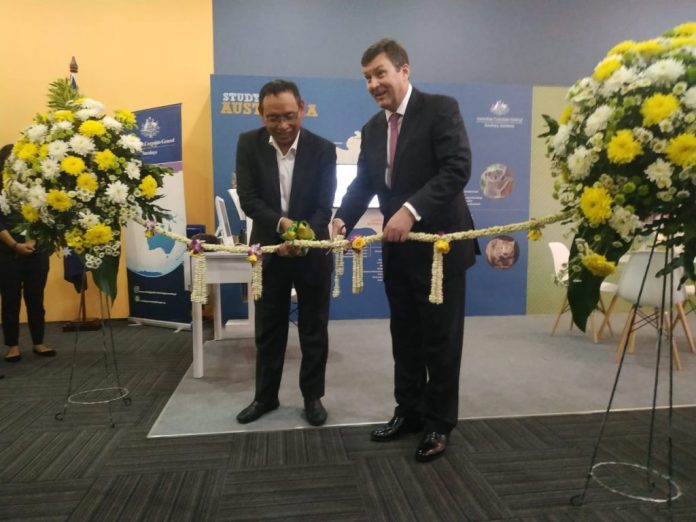 UNIVERSITAS AIRLANGGA NEWS – Universitas Airlangga has officially inaugurated Aussie Banget Corner. It is located on the 3rd Floor, Central Library Campus B UNAIR. The inauguration was held on Thursday, August 8, 2019.
Attending at the inauguration were several UNAIR leaders, such as UNAIR Rector Prof. Dr. Mohammad Nasih, SE., MT, Ak., CMA .; Vice Rector I Prof. dr. Djoko Santoso, Ph.D., K-GH., FINASIM; Vice-Rector II Dr. Muhammad Madyan, SE., M.Si., M.Fin; and also Director of Airlangga Global Engagement, Prof. Dr. Ni Nyoman Tri Puspaningsih, M.Si.
Director of Airlangga Global Engagement UNAIR, Prof. Nyoman said that the impact of Australian Corner will be extraordinary for the development of learning and teaching at UNAIR. It will provide any information about scholarships and students' life in Australia.
"Because the impact will be extraordinary for the development of teaching and learning at Universitas Airlangga, students will know information about scholarships and life in Australia," she stated.
Meanwhile, UNAIR Rector Prof. Nasih said that the cooperation between Australia and Indonesia has been going on for a long time. History had shown that Australia was one of the countries that gave recognition to Indonesia's independence.
Prof. Nasih also said that August is the month of Indonesian independence. Hopefully, with the inauguration of Aussie Banget Corner, the cooperation between Indonesia and Australia can be improved in the future.
"I expect that and once again I say Congratulations to Aussie Banget Corner, " said Prof. Nasih followed with great applause from visitors.
After his speech, Prof. Nasih UNAIR with the Australian Consul-General Mr. Chris Barnes cut the ribbon and marked the inauguration of the Aussie Banget Corner in the Central Library of Universitas Airlangga.
The inauguration was ended with an inspection to several facilities of Aussie Banget Corner. There was also a session for tasting typical Australian snacks such as Lamington, Tim Tam, Vegemite (Australian paste), and Freddo chocolate. (*)