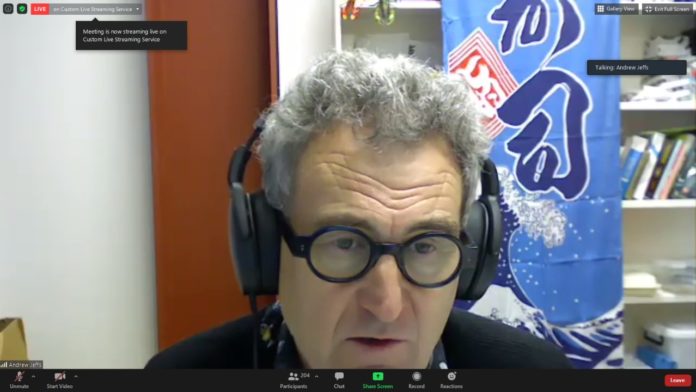 UNIVERSITAS AIRLANGGA NEWS – The issue of environmental degradation is one of the many challenges that must be faced in order to develop a sustainable aquaculture sector. It is undeniable that increasing industrial and household activities have negative impacts on the environment, fisheries and aquaculture sectors.
As a response to this issue, Faculty of Fisheries and Marine Sciences (FPK) Universitas Airlangga held 3rd International Conference on Fisheries and Marine Science (INCOFIMS) on " Challenges and Strategies for Development of Sustainable Aquaculture and Fisheries, Thursday, September 10, 2020. The conference carried out via Zoom, was attended by various groups, from researchers, students to lecturers of various universities.
Prof. Andrew Greig Jeffs, one of the keynote speakers revealed that one of the most dangerous marine pollutants is plastic waste. Nearly 8 billion tons of plastic waste is dumped into the sea every year and Indonesia is classified in the red zone for plastic waste producers as it contributes > 20% of the total world plastic waste.
"Plastic is the biggest polluter in the world, nearly 8 billion tons of plastic dumped to the sea and Asia Pacific is the area with the highest percentage," said the ecologist and marine expert from University of Auckland, New Zealand. "If it is not intervened, then in 2050 the amount of plastic waste in the oceans will be more than the number of fish," he added.
According to Prof. Jeffs, there are 3 steps to reduce plastic waste pollution. The first is to develop a method for detecting and counting plastics at sea. Second, reduce plastic toxicity by making plastic environmentally friendly and also study the physico-chemical reactions of plastics.
"There are three keys to reducing plastic waste, creating detection methods, reducing toxicity when making plastics and studying the interaction between plastic and the environment," he said.
Closing his presentation, in addition to the issue of waste, Prof. Andrew Greig Jeffs also revealed that to develop sustainable aquaculture, more extensive research on the challenges and opportunities of aquaculture issues is needed, a strong research base and innovation in the aquaculture sector and collaboration from researchers around the world should be well-established.
"To realize sustainable aquaculture, it is necessary to build a strong research and innovation base as well as broader research related to aquaculture issues and the most important is a collaboration of all world researchers," he concluded. (*)