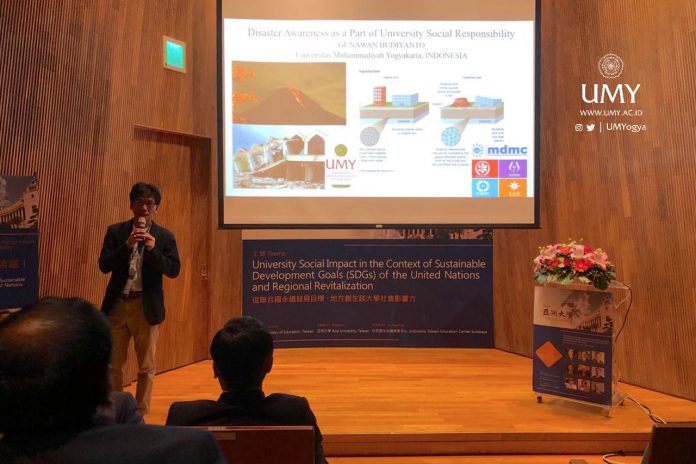 UMY News – Indonesia must concern with possibilities of natural disasters due to its location in the ring of fire. Every natural disaster always causes victims and social vulnerability so that it requires serious management. However, natural disaster management demands engagement of not only government but also other parties, including universities.
"People need to get involved in the natural disaster management, starting from mitigation, emergency response, to rejuvenation. Private institutions and society-based volunteers can participate as parties conducting the management. The management can be intensified by an action called Society-Based Community to Reduce Risks of Natural Disasters," declared Rector of Universitas Muhammadiyah Yogyakarta when presenting 'Disaster Awareness as a Part of University Social Responsibility at the 2019 Asia University President and Rector Forum on Sustainable Development Goals (SGDs) of the United Nations and Regional Revitalization on Monday (13/5) at Ando Lecture Hall Museum of Modern Art of Asia University (AU), Taiwan.
Moreover, Gunawan mentioned that UMY possesses a mission to prepare society for confronting natural disasters. "UMY aspires to improve human dignity to strengthen human values and civilization. This mission becomes a basis of UMY's social responsibility to perform community service programs related to natural disasters. Subsequently, UMY routinely performs social empowerment in villages and areas affected by natural disasters," maintained Gunawan.
"The programs also target all people affected by natural disasters so that they can enforce actions to prevent victims and social vulnerability in their surroundings. Therefore, it is important to implement natural disaster management. The other actions include introduction to disaster mitigation, emergency response management, and a rejuvenation process that we render through several workshops and practical activities," ended Gunawan.
Additionally, Director of Office of International Affairs of UMY, Yordan Gunawan informed that the forum discusses roles of universities in the world in achieving the SGDs. The forum was attended by a number of academicians from universities in Taiwan and invited others speakers, namely  Peretz Lavie (President, Technion-Israel Institute of Technology, Israel), Katsutoshi Sakurai (President, National University Corporation Kochi University, Japan), Appa Rao Podile (Vice-Chancellor, University of Hyderabad, India), João Amaro de Matos (Matos Vice Rector, NOVA University Lisbon, Portugal), Mien-Chie Hung (President of China Medical University, Taiwan Academician, Academia Sinica, Taiwan) and Jong-Tsun Huang (President of Higher Education Evaluation and Accreditation Council of Taiwan.)