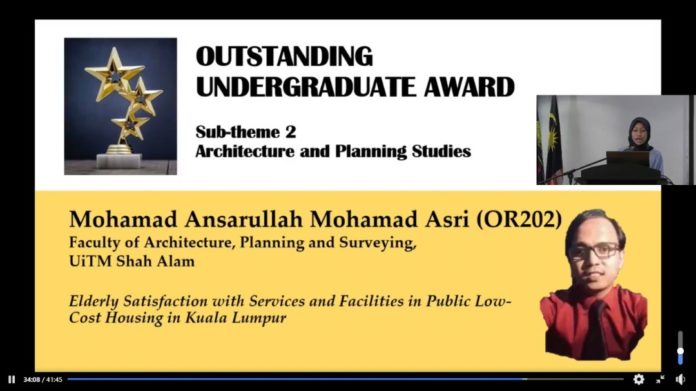 A student from Centre of Studies for Building Surveying, Faculty of Architecture, Planning, and Surveying (FSPU), UiTM Shah Alam has won the Outstanding Undergraduate Award in the 5th International Built Environment Undergraduate Research Competition (BEURC) organized by University  Malaya which was announced on 9th September 2020.
Muhammad Ansarullah Mohamad Asri, won the award competing in the sub-theme of Architecture and Planning Studies with the title 'Elderly Satisfaction with Services and Facilities in Public Low-Cost Housing in Kuala Lumpur'.
Muhammad Ansarullah's academic project supervisor, Associate Professor Sr Dr Nor Rima Muhamad Ariff explained that the topic discussed by the student was related to the comfort of senior citizens from the B40 group in the residential aspect, which includes facility support in public housing units as well as from the neighborhood. The study is also relevant to the Dasar Warga Emas Negara which gives serious attention to the housing and environment for senior citizens.
The competition, which is open to undergraduate students in the field of construction from within and outside the country, is conducted virtually following the COVID-19 pandemic that hit the world. Other sub-themes competed were Surveying and Governance; Management; Construction; and also Building Science. For a total of ten entries from the School of Building Survey, FSPU Shah Alam, two students received  Gold Award, five received  Silver Award, and three others received  Bronze Award.