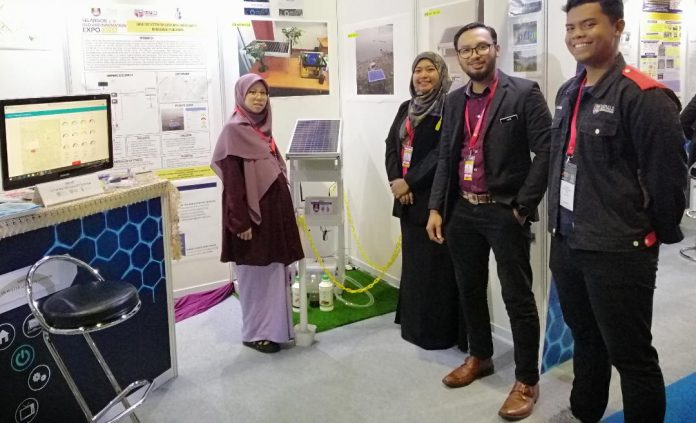 Universiti Teknoloi MARA's (UiTM) electrical engineer lecturer led her team to bag a gold medal at the 2019 International Robotic Competition and Exhibition (IRCE), held in Shah Alam, Malaysia on 26th to 28th August 2019. Ir. Dr. Norashikin M. Thamrin from the Faculty of Electrical Engineering, UiTM led her team to win the gold for the project titled 'Effective Microorganism with IoT-based System for Water Treatment'.
This collaborative team which comprised members from the industry, namely Ts. Dr. Mohamad Farid Misnan from Enter Coridor Sdn. Bhd. and an external university researcher, Dr. Nik Norliyana Nik Ibrahum from the Faculty of Chemical Engineering, Universiti Putra Malaysia (UPM). The project proposes to monitor the quality of water for the Klang by collecting the measurements of dissolved oxygen, pH, turbidity and water temperature from the river using wireless-network sensors, and correlating the data with standard Water Quality Indicator (WQI) set by certified water management bodies.
The competition was held in conjunction with the 22nd International Conference on Climbing and Walking Robots and Support Technologies for Mobile Machines (CLAWAR). It was organized by the Malaysian Society of Automatic Control Engineers (MACE), CLAWAR Association and UiTM, and co-organized by the Ministry of Education Malaysia, to promote recent technologies in robotics and automation for the betterment of human life. Participations were evaluated by prominent local and international judges based on their technical-scientific qualities, and potential for application in the public domain.
"Reconnect your World with Innovation, IoT and IR 4.0"
www.uitm.edu.my
Prepared by Dr. Siti Hazurah Indera Putera, FKE, UiTM
Edited by Assoc. Prof. Dr. Geetha Subramaniam, InQKA Fellow, UiTM