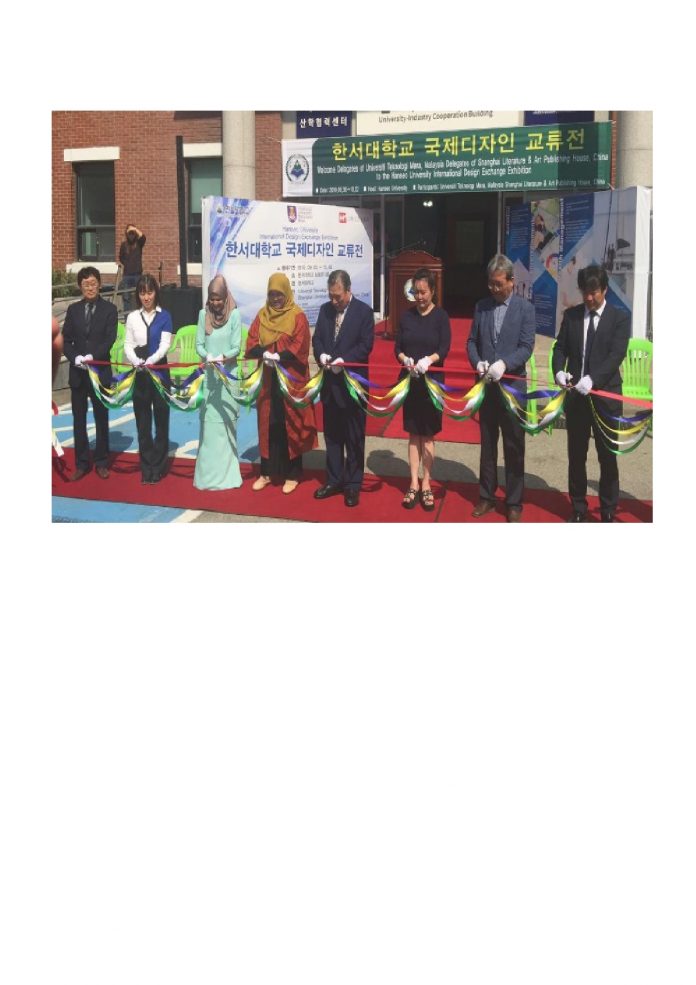 During the recent International Design Exchange Exhibition (IDEE) 2019, Universiti Teknologi MARA's (UiRM)Faculty of Art and Design students, Muhammad Amin Othman and Muhammad Abid Othman bagged the Exhibition Excellence Award organized by Hanseo University, Korea.  Both winners presented innovative designs for pizza cutter and pineapple corer.  The delegation from UiTM who consisted of 3 lecturers and 14 students showcased their latest invention and innovation in designs for gadgets at the IDEE 2019.
In conjunction with the IDEE2019, the Faculty of Art and Design also signed a Memorandum of Agreement (MoU) on 30th September 2019 with the main aim of technology exchange, knowledge transfer, research and innovation for staff and students from both universities.  UiTM was represented by Dr Wan Noor Faaizah Wan Omar, Head of Faculty of Art and Design, UiTM Kedah , Dr Shafilla Subri and Mr Mohd Taufik Zulkefli while Hanseo University was led by the President, Professor Ham Ki Sun.  Also present were Prof Kim Jin Woo, the Dean of External Affairs.
Professor Ham noted "this collaboration would serve as a platform for researchers and students to share their research to push the frontiers of design to the next level".  Next year, UiTM and Hanseo University plan to conduct a design colloquium to communicate their latest research and innovation in product design.
Part of the collaboration initiative included the appointment of faculty staff, Dr Wan Noor Faaizah Wan Omar as a visiting researcher at the Faculty of Art and Humanities, Hanseo University, Korea to embark on medical equipment design projects.
"Reconnect Your World with Education"
Prepared by – Noor Zahirah Mohd Sidek & Mohd Rizaimy Shaharudin (UiTM0
Edited by – Geetha Subramaniam, Fellow, InQKA (UiTM)