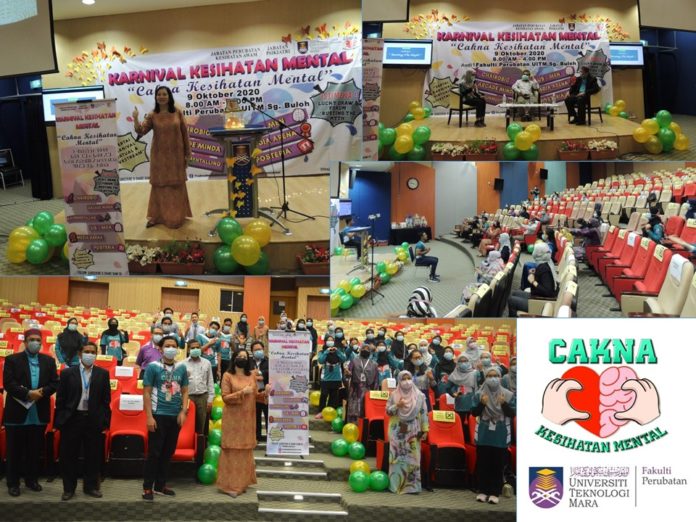 Faculty of Medicine, Universiti Teknologi MARA (UiTM), Malaysia, successfully celebrated World Mental Health Day, by conducting a hybrid mental health carnival with the theme of "Mind Your Mental Health (Cakna Kesihatan Mental)" from 9 to 11 October 2020. The World Mental Health Day was proclaimed by the World Federation for Mental Health on 10th October 1992 and this year's theme is 'Mental Health for All'.
Due to the COVID-19 pandemic, mental health has become a critical issue gaining global attention. The immediate decision to move into online and distant learning (ODL) has actually resulted in psychological distress for many students and also academics.
In conjunction with the World Mental Health Day, the Department of Public Health Medicine, led by Assoc. Prof. Dr. Zaliha Ismail, and the Department of Psychiatry, led by Assoc. Prof. Dr. Salmi Razali, collaborated to conduct a mental health carnival. The main aim of this event is to increase awareness and knowledge on mental health and mental illness and advocate the community to take control of their own mental health.
The Deputy Dean (Industry, Community, and Alumni Network, ICAN), Prof. Dr. Ariza Adnan in her opening speech emphasized that "mental health is equally important as physical health".
She thanked the organizer for the initiatives in continuing the mission of emphasizing health promotion and education during this challenging time. She also sent her wishes to everyone reminding them to sustain good mental health, while practicing the 3Ws (Wash, Wear, Warn) and avoiding the 3Cs (Crowded, Confined spaces, Close Conversation) in this COVID-19 pandemic new norm.
This health carnival "Cakna Kesihatan Mental", led by Dr. Chen Xin Wee, applied the hybrid approach, which is an on-site health carnival and virtual health carnival, to increase awareness of mental health among the faculty members, as well as the Malaysians.
The activities held included Chairobic (i.e. simple mental health exercises that could be accomplished at your desk), forum "Busting the Myths" (to provide myths and real facts about mental illness), Posteria (poster exhibition and downloadable resources to raise awareness on mental health while providing support for those seeking help), mental health screening, counseling session, online quiz, video competition on massage therapy challenge for stress relief, and the list goes on.
During the opening ceremony, Chairobic, forum, and poster exhibition were broadcast live on Facebook and Instagram, where the community had the opportunity to join the activities at their convenience. Several social media metrics have proven the success of community engagement in the virtual health carnival where it was reported that the number of likes and views exceeded 3500 on both platforms.
Despite the challenge of conducting a health carnival in this COVID-19 pandemic and the unpopular digital healthcare in Malaysia, the success of this event has prompted the educators and healthcare providers a way forward in the health promotion arena.