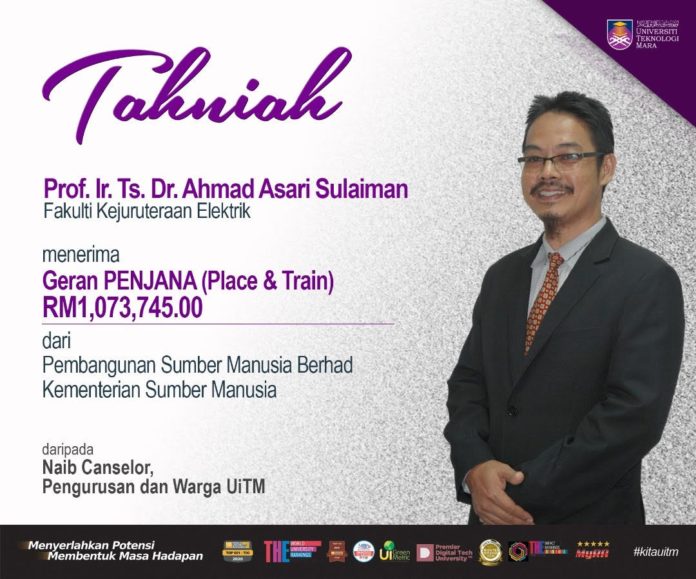 Professor Ir. Ts. Dr. Ahmad Asari Sulaiman, from the Faculty of Electrical Engineering (FEE) Universiti Teknologi MARA (UiTM), Malaysia, was recently awarded a grant for RM1.073 million by the Human Resource Development Fund (HRDF) under the initiative of the National Economic Recovery Plan (PENJANA).
The Malaysian government's initiative, emphasizes on training in terms of reskilling and upskilling of Malaysians. The main aim is to enhance labor employability and get the unemployed back to their feet in the wake of the current COVID-19 period.
The winning proposal under the 'place and train' program received approval for three projects entitled "Humidity Skill Management" (HSM), "Holistic Success Media" and "Holistic Childcare Safety Management".
This grant aims to benefit more than 280 graduates, alumni of UiTM, and the society at large who were negatively affected by the COVID 19 pandemic. This exclusive program aims to provide training to build up the leadership and interpersonal skills of the participants to ensure that the participants will be more employable.
Before PENJANA was announced, Prof Asari also was awarded a project named Holistic Skill Management (HSM) under the Graduates Enhancement Programme for Employability 2.0 ("GENERATE 2.0") for an amount of RM 1.12 million. HSM is a part of an innovation product from research that began in 2013 called Holistic Success Module and has been proven to have a success rate of more than 80% where the participants improved in their academic results with a higher CGPA.
HSM is a unique course as its objective is to produce industry icons to enhance the participant's career positions in the workforce or in their business development. It has already conducted programs to 200 graduates throughout Malaysia including participants from other universities and polytechnics.
This course is very distinct as it exposes the participants to a real job environment, exposing the participants to workplace politics, career movement, rebranding for a professional employee/employer through a full preparation of high emotional, intellectual and spiritual characteristics.
All participants will be given the training to acquire the essential skills necessary, including interpersonal and leadership skills to improve their work environment and also be shown how to bring their organizations to greater heights.
The funding body, HRDF is under the purview of the Ministry of Human Resources, Malaysia which conducts joint programs with various ministries and agencies. HRDF seeks qualified partners in delivering short term to medium term COVID-19 economic recovery plan specifically related to job placement, entrepreneurship, self-employment, and market-driven industrial revolution 4.0 training.