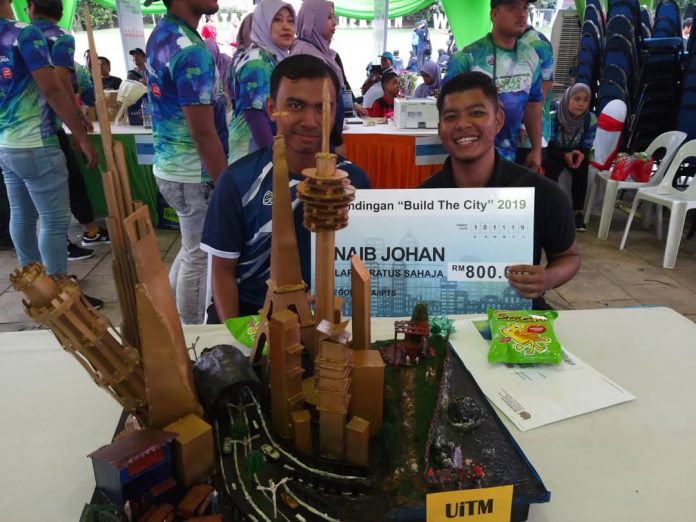 UniversitiTeknologi MARA, Malaysia's (UiTM) Faculty of Architecture,Planning and Surveying (FSPU) students won the first runners up at the " Build the City"Competition recently. Two Bachelor of Building Surveying students, Muhammad Syafuri bin MohdRosidi and MohamadSyamil bin MohdSalim created a unique model that ledthem to walk away with the runners-upand prize money of RM800.
The competition was held in conjunction with the World City Planning Day Celebration on
Nov 10, 2019. It was organized by PLANMalaysia(Department of Town and CountryPlanning, Malaysia) in collaboration with the Selangor State Government at the Shah AlamIndependence Square. The theme "Green & Community: Together is Better" was very appropriate as the world moves towards sustainability and a green world.
The "Build the City" competition requires the contestants to build a model that should include
components of buildings, landscape and infrastructure. The participants are required to use their creativity in building their model using recycled materials such as used containers, papers, glassand aluminum.
The UiTM winning model showcased famous skyscraper buildings around the world such as the Eiffel Tower, Kuala Lumpur Tower and Leaning Tower of Pisa to name a few.  The model that won was built by using used boxes, bottles, cardboards and other recycled materials.
The World City Planning Day is celebrated by nearly 30 countries globally.The event was launched by YAB Tuan Amirudin bin Shari, The Chief Minister of theState of Selangor and YB Tuan Haji Khalid bin AbdSamad, Minister of Federal Territory, Malaysia.
The main aim of the event is to appreciate and celebrate the roles related to urban planningand development especially towards living in a quality environment and a prosperouscommunity.
"Reconnect your World with Sustainability through Innovation"
Prepared by : Elma Dewiyana Ismail, UiTM
Edited by  :Assoc.ProfDr.GeethaSubramaniam, Fellow InQKA,UiTM