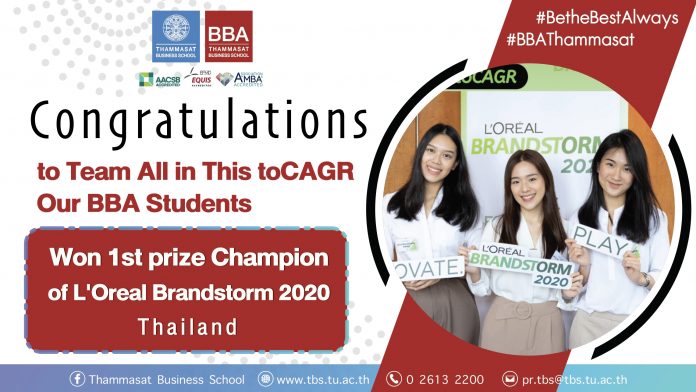 "All In This toCAGR"  team from Thammasat University is the winner of the 17th "L'Oréal Brand Storm 2020" in Thailand.
The team introduced a marketing strategy and invented a "Garnier Micellar Cleansing Cube".  Their innovation helps reduce the use of plastic in the beauty industry.
The team members include Ms.Thanaporn Sukjitnittayakarn, Ms.Sudamas Kengrungruengchai, and Ms.Pathita Tanchukiat, the fourth-year students from Thammasat Business School. They reveal that the "Garnier Micellar Cleansing Cube" product came from their interest in the Garnier Brand. The brand is aiming to reduce environmental impact. Therefore, the team wanted to innovate products from the best-selling product like Garnier Micellar Cleansing Water.
The product has been innovated in a cube form that is dissolvable and is able to clean the skin. If this innovation is developed to a real product, it will reduce the weight of product and package, water usage in the production process, and product's wastes. Moreover, Garnier Micellar Cleansing Cube also reduces Carbon Dioxide emission by five times compared to Garnier Micellar Cleansing Water. The team also proposed a marketing strategy which is to develop a vending machine and packaging reuse campaign in order to meet customer's lifestyles that want to engage with environmental conservation.
"After we heard the result, we were shocked and elated to win the  "L'Oréal Brand Storm 2020" competition. This competition made us think outside the box and innovate new creative things. We learned to develop our ideas to create a product that never existed before and to create a sustainable path for our environment. We have to thank the L'Oreal company that gave us a chance to think creatively and help save the environment for our world", said All In This toCAGR team.
During the outbreak of COVID-19, L'Oréal Thailand is aware of the safety and health of all participants, therefore, the company changed competition form by holding the "Innovation Fair" and conducted the final round through an online platform.

The winning team "ALL in This toCAGR"  received 100,000 Baht. The T(h)ree Hugger team from Thammasat University won the 1st runner up and received 50,000 Baht.
Tricologist team, also from Thammasat University,  won the 2nd runner up and received 30,000 Baht.
Mr.Thanayot Krutrabeab, Human Resources Director of L'Oreal Thailand, says that "L'Oréal Brand Storm 2020 competition is a competition encouraging new generations to develop innovative ideas and new solutions to serve the needs of international brands and changing customers' needs. Throughout the competition, students will develop skills like entrepreneurship, innovative thinking, and teamwork skills which are vital for work. Plus, these skills are what a company looks for in the candidate. It is obvious that the participating students have high potential and will grow with L'Oréal.
"During the past 17 years since we started the competition, there were more than 55 participants who got a chance to work in a Management Trainee project. The highest position that the ex-participant works in is Brand General Manager. As a result, L'Oreal gives huge importance to this competition and participants."
After this competition, the winner team, ALL in This toCAGR team, will continue developing their innovation comprehensively in order to join an international competition in June 2020 with other teams from 65 countries. The reward of this competition is to get a chance to work in France at Station F, the biggest Startup Hub in the world, for 3 months and join One Young World Summit at Munich, Germany, in order to exchange their views about the ongoing problems and create sustainable changes to the world.