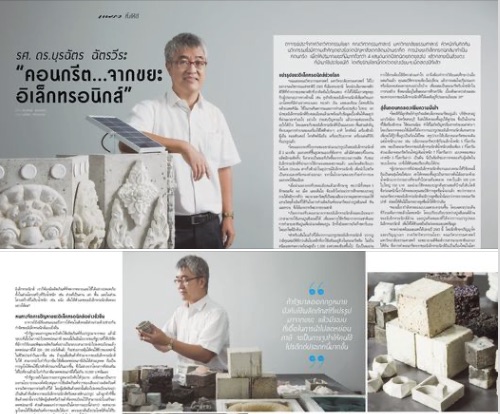 According to the most recent study, Thailand alone produces over 400,000 tons of "e-waste" (electronic waste) per year, not to mention the imported waste scandal in 2018. An industrial waste recycling plant was busted which lead to the authorities discovering over 37,000 tons of imported toxic waste in the first four-month of 2018. Imagine how many tons of those toxic wastes will be by the end of 2021.
The Department of Industrial Works has announced a notification to permanently prohibit any import of e-waste and plastic pieces beginning on June 25, 2018. However, there is a lot of waste that is still waiting to be disposed of and exported.
Many countries have decided to take e-waste and use them in various innovative ways with help from a research organization.
Recently, Thai researchers have succeeded in using e-wastes in cement and concrete that can solve two problems in one go.
Assoc.Prof.Dr. Burachat Chatveera, a lecturer at the Department of Civil Engineering, Thammasat School of Engineering (TSE), is working on the "e-waste concrete" project because of the increasing demand from the trend in modern housing, e-waste problem, and pollution, and other environmental problem from the conventional way of concrete production by blasting limestone mountain.
"To make the concrete, we start by crushing e-waste parts like circuit boards which consist of Copper, silver, tin, lead, steel, fiberglass, and plastic which creates laminate powder. And then mix it with cement (1:1) and mold into shapes," Assoc.Prof.Dr. Burachat explained.
The result is a very light-weight concrete with high heat resistance. It can be mold to various shapes such as building material (a wall block, walkway block, ceramic, floor plank) and even furniture and decorative items (table, chair, lamp, vase).
The research team is ready to develop innovation for commercial use after it is successfully used in many projects like smart home construction and smart furniture production. They are working on reducing production costs trying to make it lower than the cost of lightweight concrete to appeal to customers.
"We hope that this innovation will solve the e-waste problem in our country. There are over 400,000 tons of e-waste each year, and it is because electronic devices have a limited lifespan. From the latest information, the current ways we use to dispose of electronic waste are either leave them in dumps or buried them, all of which are very dangerous to the environment but now we can reuse it and even use it commercially," added Assoc.Prof.Dr. Burachat Chatveera.
"The "e-waste concrete" innovation is the beacon of hope to this waste problem, reusing tons of used electrical circuits from household and industrial sectors. The concrete will reduce environmental impact by replacing the cement made by blasting limestone mountain," Assoc.Prof.Dr. Burachat Chatveera emphasized.