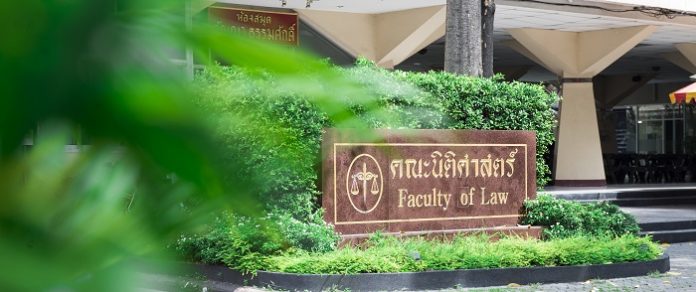 Institute of Legal Education, the Thai Bar Under the Royal Patronage, has announced the 72nd Thai Bar Association Examination Result (2020) in which 1,600 people have passed the exam. Thammasat University's Law student ranks first, and the rest of the 7 law students from Thammasat are ranked in the top 10. Miss Thanicha Thanaboonngam has secured first place. The other TU students in the top 10 are: Jirat Runguthai (rank 2), Miss Amonwan Meesanga (rank 3), Soranut Tanthanasakda (rank 4 ), Piphatkiart Chiangpuan (rank 6), Miss Benyapha Pengboonchu (rank 9), and Thanawee Niyomsup (rank 10).
Associate Professor Dr. Munin Pongsapan, Dean of the Faculty of Law, Thammasat University reveals, "The Faculty of Law has been operating since the day Thammasat University was first inaugurated in 1934 under the name the University of Moral and Political Sciences. The faculty has been the leading law school in the country training skilled personnel for various organizations in society. This year is the year of success for the faculty. The faculty's alumni, Mrs. Methinee Chalothorn has become the first female President of the Supreme Court of Thailand, and seven of our students have ranked in the top 10 of the Thai Bar Association Exam."
"Moreover, by being the first and only Thai university that offers an English program for Bachelor degree in Law since 2014, Thammasat University has become a leader in educating and grooming lawyers for domestic law firms, business sectors, as well as international law firms," said Assoc. Prof. Dr. Munin.
He also added that even though the faculty is training its students to become judges, prosecutors, legal officers, and lawyers in many organizations, the faculty is also committed to fulfilling the university's mission of being the university of the people.
The Faculty of Law encourages students to take part in community services through many activities and projects to give legal help to disadvantaged people and the victims whose rights have been violated. Examples of the activities and projects done by the faculties are TU Law Center and Thammasat Pro Bono Society.
Presently, the Faculty of Law, Thammasat University offers 4 law curricula, three of which are in Thai: Bachelor of Laws at Rangsit Campus, Bachelor of Laws at Tha Prachan Campus, Bachelor of Laws at Lampang Campus, and Bachelor of Laws Program in Business Law (English program). There are also master's degrees and doctorate degrees in both Thai and English.