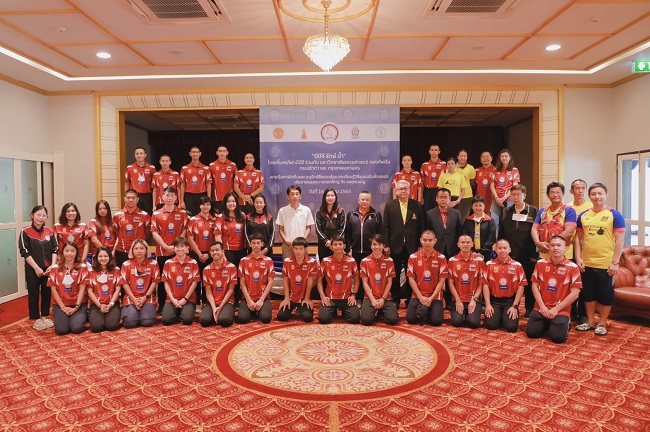 Teachers and students from Thammasat Rowing Club, Thammasat University (TU) together with BBG Club, volunteers, students from the Royal Thai Naval Academy, Members of the volunteer club from the Royal Police Cadet Academy, and other organizations, have joined the "BGG Save Waters" project.
On October 16, 2020, in the projects, participants kayaked cleaning up all the seven kilometers of the Bangkok Yai cannel in Bangkok Yai District and Khlong Mon cannel in Bangkok Noi District.
The objectives of the project are to raise awareness about the importance and value of natural resources and to reinforce a sense of responsibility to society and the environment.
Prof. Parinya Thewanaruemitkul, Vice-Rector of Thammasat University for Administration and Sustainability, Rangsit Campus, said that Thammasat is always more than happy to support these kinds of projects that give chances to develop and grow the students who want to become professional athletes and also want to give back to society. This project with BBG and other network organization is one of these projects. It makes students learn about giving back to society, working well with others, and taking care of the environment.
Nitichaya Srisukpornchai, advisor of Personal Royal Project center and vice president of the BBG Club said that BBG aims to train professional athletes, focusing on disadvantaged children and teenagers, those in the juvenile observation and protection centers, foster home, and rural and high-risk area as the main target. Besides sports training, BBG Club will provide overall care such as school education and day-to-day activities that help them to learn the ways of living with others in society.
BBG Club currently has more than 662 members, seven gyms under the responsibilities of the Department of Juvenile Observation and Protection, and one gym under the Department of Children and Youth. BBG is planning to build four more gyms in Rayong Children Protection Center, Children and Youth Training Center (District 8) in Surathani, and High-risk area in Chiang Mai and Chiang Rai. BBG will continue to expand its network and gym all over the country in response to Her Royal Highness Princess Bajrakitiyabha Narendira Debyavati's vision and kindness toward the children.