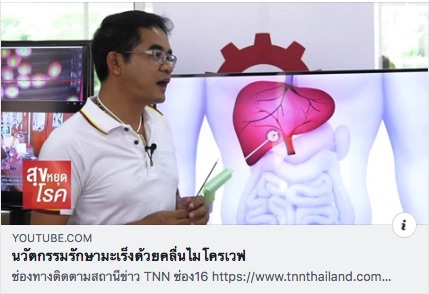 The liver cancer treatment by using the microwave ablation (MWA) technique is a powerful treatment. This technique is to input the microwave frequency to destroy the cancer cells without damaging the surrounding tissue and related to the temperature achieved during the process. This treatment, the microwave power is generated by a microwave generator and transmitted by the microwave antenna. The microwave frequently is propagated from the microwave antenna to the target tissue and convert to heat generation in the target tissue. However, the effectiveness of the treatment depends on the characteristics of liver cancer, such as the position of the tumor, it's shaped, and it's surrounding. Furthermore, the microwave power and microwave frequency are necessary parameters to understand in this treatment. The experimental research is too slow and too expensive to test many conditions. Therefore, the numerical simulation is needed in pre-planning treatment applications in order to prevent injury from unwanted thermal, which the computer simulation can easily be used to produce such treatments in great detail, saver time, and cheaper than the experiment.
In this study represent 3D liver cancer with MWA surrounded blood vessel simulation is the asymmetrical model of liver cancer treatment that conditions nearly to the actual treatment. The 3D numerical simulation can be used as a guideline for the practical treatment.
Reference :
Keangin, P., Rattanadecho, P., & Wessapan, T. (2011). An analysis of heat transfer in liver tissue during microwave ablation using single and double slot antenna. International Communications in Heat and Mass Transfer, 38(6), 757-766.
Rattanadecho, P., & Keangin, P. (2013). Numerical study of heat transfer and blood flow in two-layered porous liver tissue during microwave ablation process using single and double slot antenna. International Journal of Heat and Mass Transfer, 58(1-2), 457-470.
(JOB) WUTIPONG PREECHAPOLKUL
Ph.D. Student and Assistance Researcher
Department of Mechanical Engineering, Faculty of Engineering
Thammasat University (Rangsit Campus)