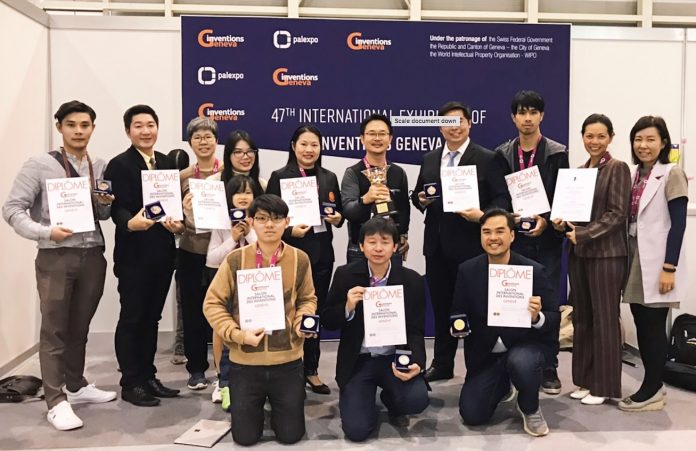 Researchers from Thammasat University achieved 21 awards from the 47th International Exhibition of Inventions in Geneva, Switzerland and gave Thailand a great reputation again. We are confident in our academic performance and aim to apply the knowledge to improve economics and quality of life.
Thammasat University participated in the 47th International Exhibition of Inventions Geneva, at Palexpo convention hall in Geneva, Switzerland on 10-14 April 2019. This year, researcher team from TU made an outstanding work and won 21 awards including 1 Gold Medal, 4 Silver Medals, 10 Bronze Medals and 6 Special Prizes. Winning inventions include technology invention, transportation and logistics invention, medical invention, electrical invention, weather forecasting invention and Artificial Intelligent.
Associate Professor Gasinee Witoonchart, President of Thammasat University, reveals that 21 awards that TU achieved from the 47th International Exhibition of Inventions Geneva shows that our professors and researchers have great potential in science and technology. We apply knowledge and develop new ideas and invention to serve the need in the future. We also have supporting policy for new invention. It is a grand success that TU has achieved 21 awards when we compared to other inventions from other 40 participating countries. We have made Thailand a great reputation in international stage. Next year, we will continue supporting our research team to be internationally accepted in terms of innovation, academic work and creativity.
Assoc. Prof. Gasinee Witoonchart emphasizes that Thammasat University has a vision to encourage all kinds of innovation in accordance to economic and social development policy. We want to improve working methodology and create working environment for innovative and creative work including cooperating with governmental and private sector. There will be cooperation in budget and innovative technologies that are practical and beneficial for better quality of livings such as health care, medical innovation, industry innovation, and transportation.
21 rewards that TU researchers won from the 47th International Exhibition of Inventions Geneva are
1 Gold Medal
Invention: Internet of Things that can detect bumping reaction and automatically activated SOS by Asst. Prof. Dr. Pisan Keawprapa and others
4 Silver Medals
Invention: 3D numerical model to calculate liver cancer treatment process by using microwave by Professor Padoongsak Rattanadecho and others
Invention: Analysis program for assessing structural change in Glaucoma patients by Asst. Prof. Dr. Nopporn Leepreechanon and others
Invention: Program classifying types and colors of ornament using artificial neural network by Asst. Prof. Dr. Pisan Keawprapa and others
Invention: Bee walking pattern in beehive analysis using image processing by Professor Dr. Thanarrak Teeramankong and others
10 Bronze Medals
Invention: Detecting devices for health and vehicle location using Internet of Things by Asst. Prof. Dr. Nopporn Leepreechanon and Mr. Nattapol Wattanawisut
Invention: AI and Internet of Things for plooking by Asst. Prof. Dr. Nopporn Leepreechanon and others
Invention: Smart phone application for Glaucoma patients using eye drops by Assoc. Prof. M.D. Manchima Makornwattana and others
Invention: Film-to-go by Asst. Prof. Dusit Athinuwat and others
Invention: Speed growth by Asst. Prof. Dusit Athinuwat and others
Invention: Application for eye check-up by Assoc. Prof. M.D. Sakchai Wongkittirak and Asst. Prof. M.D. Nawapol Kanjanaran
Invention: GlaucoApp on phone devices by Assoc. Prof. M.D. Sakchai Wongkittirak
Invention: Breastfeeding helper and measuring breast milk by Professor Supawadee Thabglam
Invention: Checking on public finance spending by Professor Dr. Thanarrak Teeramankong, Dr. Kobkrit Viriyayuthakorn and others
Invention: Error detecting machine for motor using vibration frequency by Professor Dr. Thanarrak Teeramankong and others
6 Special Prize
Special Prize on Stage from Inventions Hong Kong & Invention Geneva
Invention: 3D numerical model to calculate liver cancer treatment process by using microwave by Professor Padoongsak Rattanadecho and others
Special Prize from Russia
Invention: Breastfeeding helper and measuring breast milk by Professor Supawadee Thabglam
Special Prize from China
Invention: Egg counter on automatic conveyor belt using security camera and image analysis by Asst. Prof. Dr. Pisan Keawprapa and others
Special Prize from Korea
Invention: Rice bran coating (Melody fresh) by Assoc. Prof. Dr. Jirada SIngkornrat and others
Special Prize from Saudi Arabia
Invention: Rain forecast model using AI by Assoc. Prof. Dr. Uruya veesakul and others
Special Gold Medal (Special Prize from Morocco)
Invention: Textile Pattern Cluster & Searching for Kansei Engineering by Professor Dr. Thanarrak Teeramankong and oth