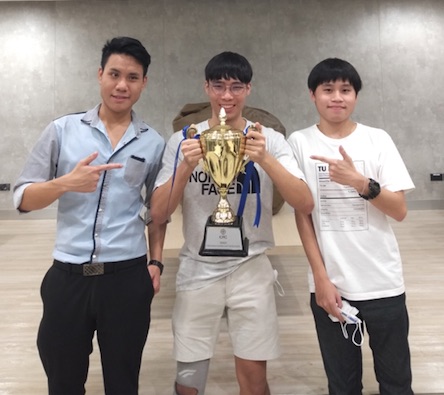 Weeris Atichatpongsuk, Supakorn Wilartratsami, and Nathat Chongcharoenpanich, second-year students at the International LLB Program of Thammasat University have participated and won the national IHL Role Play competition hosted by the International Committee for the Red Cross (ICRC).
The competition is a one-day event that took place on the 10th of October 2020 and was followed by a Moot Court Competition on the 11th. The team will now represent Thailand in the international round.
The competition was divided into the morning and the afternoon session. In the morning session, the teams went to 'bases' in pairs and took the roles of Humanitarian officers. In each base, the teams faced different situations tailored by the organizers. The situations were acted out by the judges and organizers to show what really happens in real Humanitarian fieldwork.
In the afternoon session,  the competition moves from roleplaying the work in the field to roleplaying the work in the briefing room.
The winning team found the competition experience to be fun, practical, and insightful.
The team now has the chance to apply for funding from the ICRC, if they successfully register for the Jean-Pictet Role Play competition, which is a renowned international humanitarian event for young lawyers.
The team expresses their sincere gratitude to the ICRC and Thammasat University for hosting this event and giving them an opportunity to participate in it.

"As a law student who has not been participating in field activities that often, this is a great opportunity to practice legal theory knowledge, including "out of the book" experiences.  Learning how to deal with uncomfortable situations and pressure is important in the future work field. There, I found that those could be the problems humanitarian officers encounter in real life. Diplomatic approaches and cooperation might be more efficient than enforcing the law, " said Weeris Atichatpongsuk.
"I am glad that we participated in this competition. From the experience itself, this has been eye-opening in terms of how International Humanitarian Law in action works. The application of International Humanitarian Law cannot be limited just to theories. The people who work in this field, such as the ICRC officers, have to face real people and real challenges. Thus, they have to go outside the books and use non-legal skills as well. This Role Play competition has shown us just that, " said Supakorn Wilartratsami.
"This was amazing. Everyone is so nice and I have got a lot of new friends. The staff are friendly. Although we still have exams, participating in the Role Play was worth it. I would recommend it to everyone. It will teach you a lot about international humanitarian law and you will meet a lot of amazing people too," concluded Nathat Chongcharoenpanich.