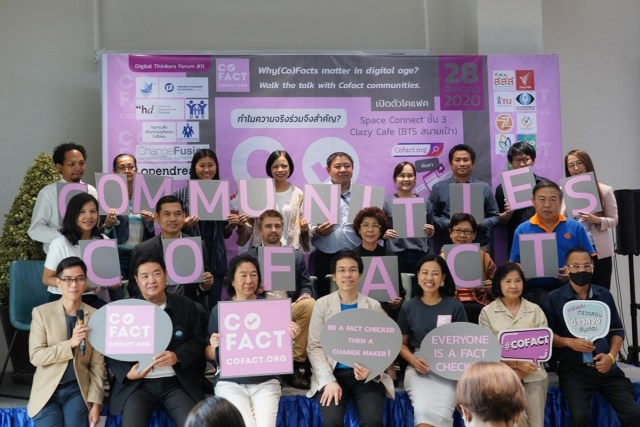 In an initiative to fight the threat of fake news, eight organizations including Thai Media Fund, Thai Health, Friedrich Naumann Foundation for Freedom (FNF), Thai PBS, The National Press Council of Thailand, Society for Online News Providers Association, Faculty of Journalism and Mass Communication, Thammasat University, and Faculty of Communication Arts, Chulalongkorn University have together to lead "COFACT" project (Collaboration Fact-Checking). The 8 parties have mutually signed the declarations and pledged to fight against fake news.
Ms.Supinya Klangnarong, Founder of Cofact.org, reveals "COFACT was inspired by the COFACT initiative started in Taiwan. It is a public place where everyone can monitor fake news. COFACT has a website platform in order for everyone to analyze and differentiate fake news before sharing."
"If anyone detects false information, they will correct it before publishing or sharing. People can check fake news via 2 platforms, both line @cofact, and website cofact.org. There is an auto-message program that will screen fake news before publishing on social media."
Dr.Supreeda Adullayanon, Administrator of Thai Health, says that over the last decades, the nature of media landscapes has changed. The number of media channels, media reporters, media receivers has expanded. Everyone can become a reporter just using a smartphone. Therefore, it is impossible to take full control of the platform.
"COFACT is a new innovation combating with online fake news. We still need more help and movements from the government to improve citizens' media literacy skills."
Dr.Thanakorn Srisuksai, CEO of Thai Media Fund, also asserts that the role of "COFACT" is to strengthen media literacy. We are willing to support, drive media literacy by operating digital literacy courses, and doing research.