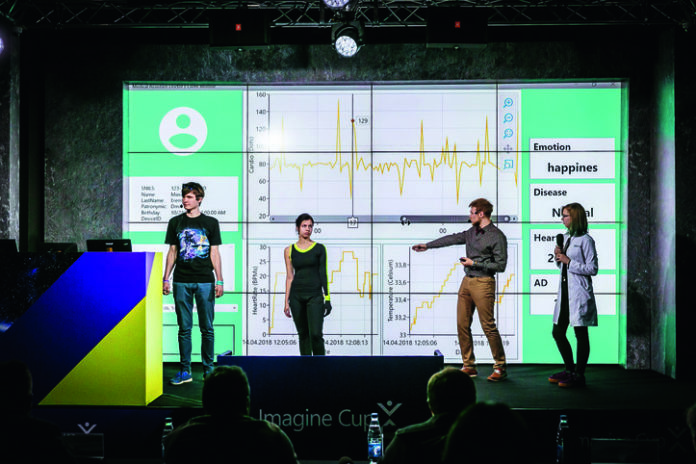 Second-year student of Moscow Aviation Institute (National Research University), Faculty No 8 "Information Technology and Applied Mathematics" Maxim Eremin created a medicine related project – Medical Assistant. The project was made on the basis of the IT-center of MAI and the Internet Initiatives Development Fund in the framework of the program "An accelerator of student start-ups".
The essence of the project is in the implementation of telemedicine capabilities that will simplify people's lives. A person is put on a suit with sensors that collect telemetry data of his body: cardiogram, pulse, amount of oxygen in the blood, temperature. It is planned to add blood pressure indices to this list, an invasive blood sugar sensor and, for the sports version, a muscle strain sensor. All this data is processed using various mathematical methods and filters and sent to the cloud storage. The constructed predictive model captures deviations and can recognize certain symptoms of diseases.
To create a prototype, team of Maxim Eremin bought compute boards, sensors, made a costume (it fits tightly to the body like a surfing suit) and conducted tests. By themselves they have made the entire cloud infrastructure and two applications for work with system: a mobile application for the patient and desktop-application for the doctor. Through it, the doctor can not only receive all the telemetry and analytics, but also to give the patient recommendations, for example, after sports loads, during which the pulse jumped.
The patient keeps a diary on a mobile device, where he notes what he did today, and the doctor compares this with the sensors and monitors of his health without daily direct contact.
However, it is provided the possibility of visual examination of the patient: in a mobile application was added the function of visual recognition of certain symptoms in the face of human using computer vision. You can take pictures of yourself in the morning and in the evening and send them to the doctor. They will come to him already with conclusions: all is well or some symptoms are visible.
The medical suit is made for mass use and will not be costly— for this, it should be comfortable in it, it should not interfere with life. It can be used by healthy people and, for example, patients in medical clinics whose condition should be monitored continuously. The medical suit can also be used for flight expertise in health centers, where pilots are trained and tested before flying. One of the prototypes was made for athletes. For example, if you wear these suits on football players, the coach during the match will know everything about their health, deciding whom to replace on the field.
It is planned to test the medical suit in the preventative clinic of Moscow Aviation Institute.