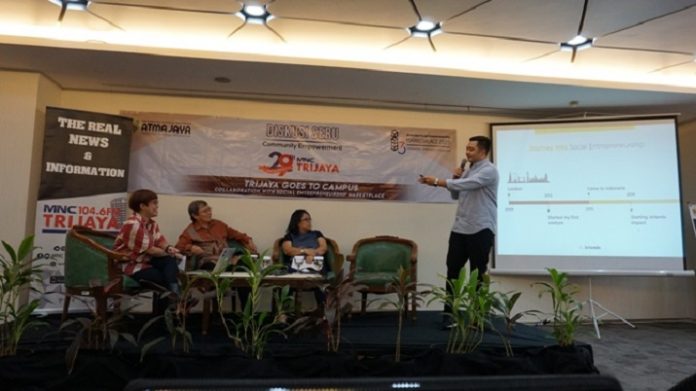 Atma Jaya Catholic University of Indonesia (AJCUI) for the second time organized the talk show "Social Entrepreneurship Marketplace 2019" on Thursday, 24th October 2019 with the theme "Community Empowerment" at Yustinus Building, 14th floor, Campus 1 Semanggi. 
This event invited dr. Lie Augustinus Dharmawan (doctorSHARE), Ari Sutanti (British Council), and Simon Oberman (Artemis Impact). Ita Kusuma led the talkshow from Trijaya FM.
This second series of the talk show was a collaboration between Trijaya FM and AJCUI to discuss social entrepreneurship, volunteering, and digital platform. The discussion also paid attention to how education and guidance in social entrepreneurship are some efforts to achieve SDGs. 
The event was expected to encourage people to dare themselves to start small yet impactful social entrepreneurship. Ari Sutanti stated that we were not supposed to solve social problems but also to create job opportunities and encourage youths to build their entrepreneurship.
Several social communities formed by AJCUI students participated in this event were EartSet, Lokal Parfait, Science and Tourism Development Center, and Research Activity Center. EarthSet itself is a tableware product expected to encourage people to use less plastic tableware to reduce plastic waste. This product was innovated by students from the Faculty of Business Administration and Communication studies. It was proposed to the Student Creativity Program organized by the Ministry of Research, Technology, and Higher Education. Meanwhile, Lokal Parfait is the first food product in Indonesia, which combines traditional sweets such as putu ayu, pepe, pukis, cantik manis with oatmeal, granola, and macchiato. The owner of the business is students from the Faculty of Biotechnology.
The Science and Tourism Development Center and the Research Activity Center are learning facilities provided by the Department of Hospitality. These two facilities are used to support a program focusing on developing tourism to produce excellent human resources by conducting planning, research, and development in rural areas in Indonesia. It aims to improve the economic condition of the rural regions. The program has achieved the seventh rank in the competition of tourist village guidance organized by the Ministry of Tourism.