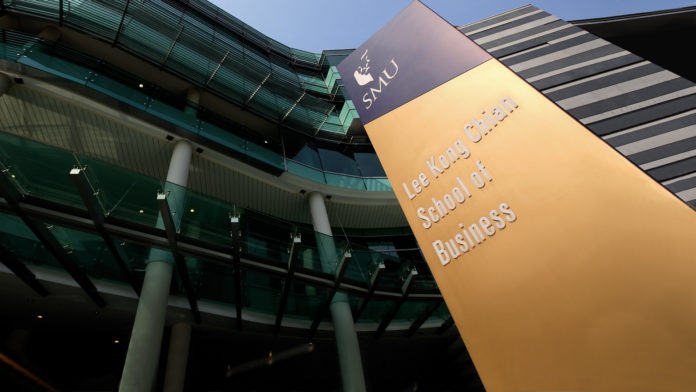 SMU LKCSB's MBA programme is ranked 10th among Asian business schools; MBA alumni experienced an impressive 133 per cent increase in salary after graduation
 Singapore – The Master of Business Administration (MBA) programme, offered by the Singapore Management University's (SMU) Lee Kong Chian School of Business (LKCSB), claimed its best ranking of 43rd worldwide by the Financial Times (FT), climbing steadily from 49th spot last year. Ranked among the Top 10 best Asian business schools this year, the School's MBA Programme excelled in indicators such as salary increase of its alumni (12th worldwide) and 'value-for-money' (29th worldwide).
The findings of the closely watched FT Global MBA Rankings 2019 reveal that SMU's MBA alumni experienced an impressive 133 per cent increase in salary after graduation. This is determined by comparing alumni salary before the MBA with salary now. 97% of its most recent graduating class found employment or accepted a job offer within three months of completing their studies, up from last year's 82%. In terms of being 'value for money', LKCSB moved up eight notches from last year's 37th worldwide placing.
"This is a delightful milestone to mark the SMU MBA's tenth anniversary! The 2019 FT ranking endorses LKCSB's strong faculty, innovative curriculum, interactive pedagogy, and an immersive global learning environment. We prepare our graduates with the capabilities necessary to succeed in their careers by providing a global perspective with a unique understanding of the Asian business context.  Whether it is finance, manufacturing, services, technology or entrepreneurship, Singapore and the region provides tremendous opportunities to grow, develop leadership competencies, and make a meaningful impact on society," said Professor Gerard George, Dean of SMU's Lee Kong Chian School of Business, and Professor of Innovation and Entrepreneurship.
Notably in 2018, LKCSB was one of the youngest business schools in the world and the only Singaporean business school, to achieve 'Triple Crown' accreditation. This distinction of being triple accredited by the Association to Advance Collegiate Schools of Business (AACSB), AMBA and European Quality Improvement System (EQUIS), is held by a very select group of business schools around the world.
About the programme
Started in 2009, the SMU MBA is well recognised as a programme that offers a purposefully planned curriculum with an Asian perspective, delivered by a strong faculty panel with extensive teaching and industry track record. The 12-month programme comprises real-world learning from award-winning case studies on Asian and Western companies, interactive seminar-style pedagogy and exposure to an internationally diverse faculty. Students benefit from the opportunities to engage with outstanding leaders from the business community, and an immersive and international learning experience comprising overseas exchanges and Overseas Immersion Programme (OIP). The programme also has a curriculum that equips students with the necessary skillset to succeed in the highly digital business environment.
About the FT MBA Ranking
FT's closely watched annual ranking, now in its 21st year, ranks a total of 100 full-time MBA programmes from 18 countries around the globe, according to multiple criteria such as career progression and salary of alumni, and the diversity of students and faculty. The ranking considers the features of the institutions and their programmes, and is based on surveys of the business schools and their graduates.
Separately, in the FT Masters in Finance Post-experience Ranking 2018, LKCSB's MSc in Wealth Management ranked 3rd in the world and 1st in Asia, in addition to the FT Executive EMBA Ranking 2018, where LKCSB was ranked 22nd globally.