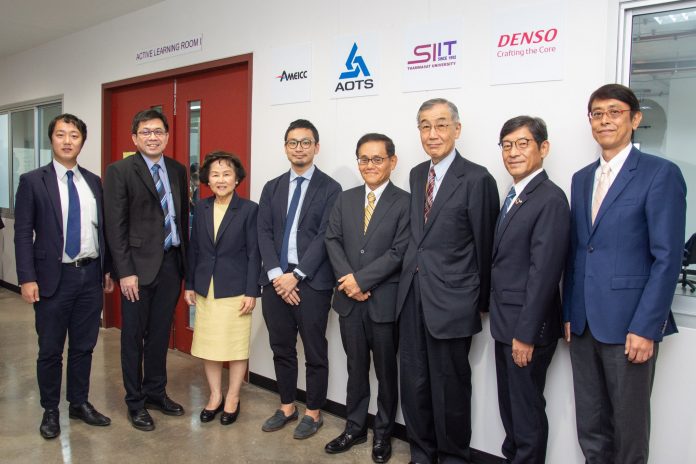 Sirindhorn International Institute of Technology (SIIT), Thammasat University in collaboration with Denso and the Japanese government, introduces the Active Learning classroom and Digital Lean Manufacturing course to prepare for digital industrial transformation.
28 January 2020, SIIT held an opening ceremony for the Active Learning classroom and a special tour in the class with teaching materials sponsoring by the Japanese government. The event was attended by representatives from the Embassy of Japan, AMEICC and AOTS, Japan International Cooperation Agency (JICA), executives from Denso, as well as, Rector of Thammasat University and the director of Sirindhorn International Institute of Technology.
SIIT and experts from DENSO work in collaboration to develop the Active Learning method in Digital Lean Manufacturing course for graduate students, and Digital Lean course for graduate students. This program is supported by the Japanese government through the AEM-METI Economic and Industrial Cooperation Committee (AMEICC) and The Association for Overseas Technical Cooperation and Sustainable Partnerships (AOTS) to nurture students to become a new generation of highly digital and data analysis skills that can be used to decide on design and improvement of production processes and services under lean practices to support the changes and needs of the Thai industry
Besides developing the course and teaching media together, the partnership between SIIT and DENSO also provides scholarships for internships with affiliates companies in both Thailand and Japan, staff training as well as joint development researches aiming to strengthen the ability of personnel in Thailand to support industrial change in the digital age.