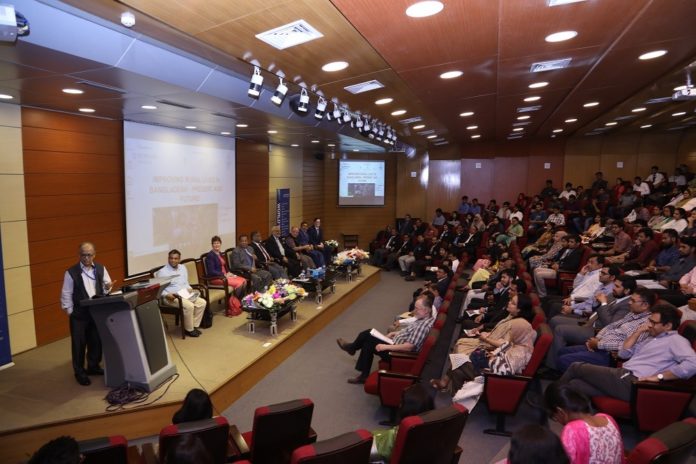 On Sunday, 12 August 2018, Monash University in partnership with Oxfam, Austrade, and North South University organized a seminar on "Improving rural lives in Bangladesh: Present and Future". This event is the first step toward a formal collaboration between NSU and Monash University. The seminar highlighted the unlimited possibilities to improve our communities when universities, governments, NGOs, and industries work together. The UGC Chairman Prof. Abdul Mannan, the Chairman of the Board of Trustees, Mr. M. A. Hashem, the Vice-Chancellor of NSU, Professor Atiqul Islam and Austrade STIC Lionie Muldoon were present in the program.
The Keynote speaker Honourable Minister of State for Information and Communication Technology Division, Mr. Zunaid Ahmed Palak praised and shared the Monash team's vision for e-society and economy in rural Bangladesh. Participatory Research and Ownership with Technology, Information, and Change (PROTIC) – The ongoing Monash Oxfam translational research project lead by Dr. Larry Stillman has demonstrated that we can use the skills knowledge and learnings of rural women as 'active citizens' to use and create a 'value-added' information to increase food and other production and support rural innovation. Further understanding the progress in education in Bangladesh context and its challenges shared by Monash University Associate Professor Asadul Islam and his ex-student and current faculty member at NSU, Dr. Kanti Ananta Nuzhat encourages policy makers and participants for action in making education better especially for females.
In the end, the Chairman of the Board of Trustees, Mr. M. A. Hashem said, "The government of Bangladesh is working strongly to improve the rural lives. NSU appreciates such initiatives and will be working in the future with the government, NGOs and international universities in research work for such causes". The session was chaired by the Vice-Chancellor of NSU, Professor Atiqul Islam. NSU, to show its appreciation, presented the guests with crests and bouquets for their valuable speech and time.