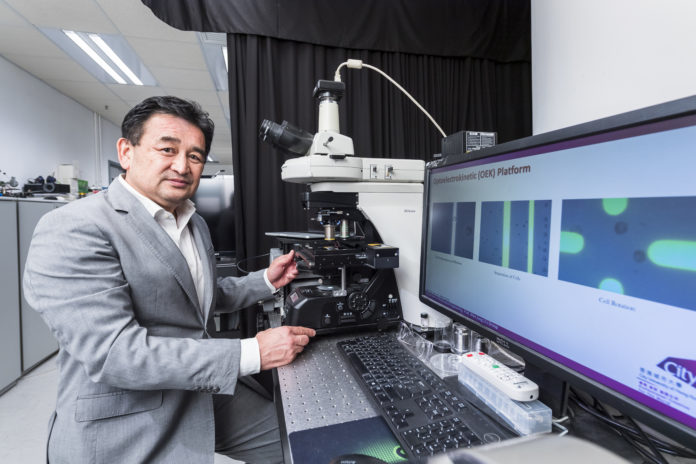 A new method for identifying gastric cancer cells within minutes and more accurately than by using traditional methods is underway at the City University of Hong Kong (CityU).
Led by Professor Li Wen Jung of the Department of Mechanical Engineering and Associate Provost (Institutional Initiatives), with collaborators from the Shenyang Institute of Automation (SIA) of the Chinese Academy of Sciences (CAS) and First Hospital of China Medical University (FHCMU), the research has been published in Science Advances.
"The aim is to reduce the number of deaths due to gastric cancer, one of the leading causes of cancer deaths worldwide," said Professor Li, a co-contact author on the publication titled "Detection and isolation of free cancer cells from ascites and peritoneal lavages using optically induced electrokinetics (OEK)".
Professor Li first set up the OEK system in CityU in 2012. With the support of the CAS-Croucher Funding Scheme, he later replicated the system at the Joint Laboratory co-established by CityU and SIA in Shenyang, where the experiments of this study were formed.
Around 800,000 deaths a year are recorded worldwide from gastric cancer, the third highest rate among cancer deaths. The novel procedure developed by the joint team uses a new kind of OEK microfluidic method to isolate cancer cells from the stomach area.
Gastric cancer is often hard to diagnose because current approaches are not sensitive enough to spot malignant cells.
However, the OEK method is a new technique that could be integrated with "lab-on-a-chip" systems that offers researchers opportunities to manipulate objects within a micro and nanoscale bioengineering environment.
The rationale for applying OEK to gastric cancer is that these cells are not the same size and, crucially, possess different electrical characteristics to other cells in the peritoneal region.
"When compared to traditional methods for spotting gastric cancer cells, our OEK microfluidic method is more sensitive when looking at electrical characteristics. Using this technique, we have been able to separate gastric cancer cells from other cells in six patients with ascites [abnormal buildup of abdominal fluid] with a purity of over 70%," he said.
The new method is appealing because it is quick and non-invasive. In fact, within five minutes, it can separate out the gastric cancer cells on the OEK microfluidic chip.
"The study has benefited from working with doctors and patients at the FHCMU in Shenyang where medical staff have been impressed with the results," Professor Li said. The principal collaborator from the FHCMU is Professor Wang Zhenning, who is also a co-contact author on the publication.
"Our hope is that our research will speed up the diagnosis of gastric cancer and save lives."