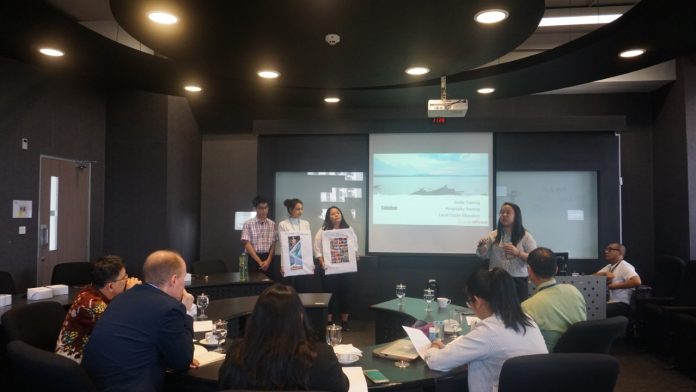 Mentawai Islands is one of natural treasures of Indonesia. These islands have big waves which are suitable for surfing. Unfortunately, Mentawai is still far from being prosperous. The infrastructure development in Mentawai is still very slow and the electricity distribution is unequal. As rice field is limited, rice supply must be received from Padang which requires high cost.
Reflecting on problems faced by Mentawai Islands, students of Atma Jaya Catholic University of Indonesia (AJCUI) and Binus University initiated a social entrepreneurship program called Rumah Mentawai. Rumah Mentawai is a web-based travel agency which promotes the beautiful nature of Mentawai and empowers the islanders.
Fransiska Myrna, a student from AJCUI who was one of the developers of this program, explained that the idea was inspired by their experiences living in Mentawai for 1 month for a community service. "Living there for one month, we realized that their development and economy are still far behind. For instances, the limited access for land transportation and limited electricity. However, for us, Mentawai has lots of potential as their nature is truly beautiful and their culture is very unique," she said.
The Rumah Mentawai program also adopted the fifth value of Pancasila, which is to support the welfare improvement of Mentawai islanders. This sociopreneurship is hoped to not only bring economic profit but also can help solve social issues in Indonesia.
Through Rumah Mentawai, tourists will directly learn their nature and culture from the local people. For instances, tourists will live in local people's houses and try local food. Mentawai islanders will also be empowered to teach tourists their history and culture.
Myrna developed this program with Gabrielle Lourdes (AJCUI), Maulvi Zehra (Binus) and Stanislaus Seanbert (Binus) in the competition of Social Entrepreneurship Hackathon. They are one of the teams who got grant for their project.
Social Entrepreneurship Hackathon is a competition which challenges university students to create an entrepreneurship which can bring positive contribution to society and environment. This program is a partnership between AJCUI and Binus University, supported by the Goethe Institute Jakarta.