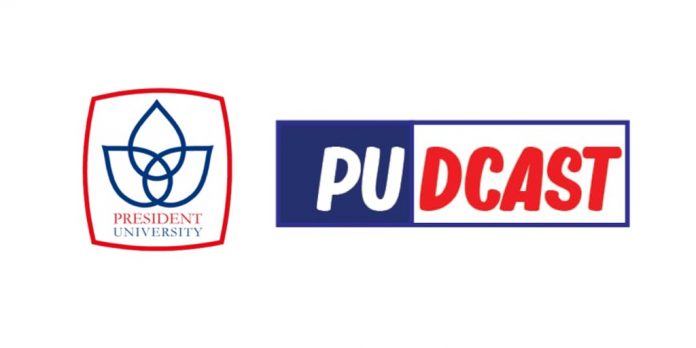 In the midst of the COVID-19 pandemic, President University is continuously attempting at creating innovations to stay close to their students and prospective students, one of them is by making a podcast called PUDCAST. Through PUDCAST, (Presunivers Podcast), President University invites lecturers, students, and alumni in each episode to share various information surrounding President University and other interesting issues of the society.
The first episode of PUDCAST has been aired with the Head of Mechanical Engineering Study Program, Dr. Eng. Lydia Anggraini, S.T., M.Eng.,  sharing information about Mechanical Engineering. She also elaborated on her experience of conducting online classes as well as the career prospects for Mechanical Engineering graduates.
In the next episode, Ilham Agasi, an alumnus of Management batch 2013 along with Aura Ryumandhina, a student of Environmental Engineering batch 2018 and Ir. Temmy Wikaningrum, M.Si., the Head of Environmental Engineering Study Program President University were present to discuss the correct use of disinfectant in the midst of COVID-19. This episode aimed to address speculation regarding the correct use of disinfectants to kill viruses.
In addition to PUDCAST, President University also holds various Webinars, E-Talkshows, E-Consultation Day, and E-Studium Generals that are open to the public.
Unlike podcasts which only present audio broadcasts, PUDCAST can also be enjoyed with video. Through this PUDCAST, prospective new students are also invited to get to know their place of study first and get a variety of interesting lessons before starting their lectures later.