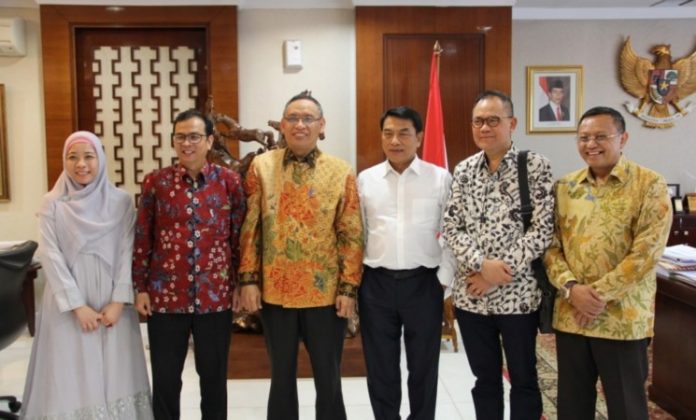 UNIVERSITAS AIRLANGGA NEWS – Rector of Universitas Airlangga Prof. Dr. Mohammad Nasih SE., MT, Ak., CMA., presented the stem cell research to the Presidential Chief of Staff, TNI General Moeldoko at Bina Graha on Wednesday, July 10, 2019. Accompanied by other leadership of UNAIR, Prof. Nasih explained the development, development plans, and results of stem cell research in UNAIR.
UNAIR Vice Rector I Prof. Dr., Djoko Santoso Ph.D., K-GH., FINASIM .; Vice Rector II Dr. Muhammad Madyan, SE., M.Si., M.Fin .; and UNAIR Secretary Drs. Koko Srimulyo, M.Si were also present for the meeting, including the Head of the UNAIR Stem Cell (P3SC) Research and Development Center Dr. Purwati dr., Sp.PD.
Stem cell is one of the medical technologies developed by UNAIR. In its development, the research was embodied in the Stem Cell Research and Development Center, a study center for the development and research of stem cells of UNAIR.
The institute aims to support both basic research and transitional research, in the field of Stem Cell and tissue engineering. In its journey, the Stem Cell Research and Development Center collaborated with the cell and tissue bank of the Dr. Soetomo General Hospital Surabaya. In the future, further development will be directed at the technical research for research -based services that have been developed with the legality of the Ministry of Health of the Republic of Indonesia.
During the inauguration of the stem cell research laboratory at Institute of Tropical Disease Campus C Surabaya, in the previous year, Dr. Purwati said that now UNAIR is developing stem cells for antiaging, in collaboration with Dr. Soetomo General Hospital.
"For business development, P3SC partnered with state-owned company PT Phapros Tbk," she said.
Meanwhile, at the meeting, Prof. Nasih focused on explaining the development of stem cell technology that has been carried out by UNAIR. The development, continued Prof. Nasih has led to the form of cooperation with BUMN (State-Owned Enterprises) such as Biofarma.
However, Prof. Nasih hoped that there will be greater cooperation opportunities in the future, especially the full support from the government.
"Many doubt stem cells because they fear failure and casualties. In fact, it is less likely to happen. Of course, it must be legally supported so that people will hesitate no more," he said.
On the other hand, Presidential Chief of Staff Moeldoko responded seriously to the development of stem cell research conducted by UNAIR. Regarding the negative stigma that arises, Moeldoko hoped that academics, especially researchers, can and should be able to overcome it.
"Academics must be able to get out of the negative stigma that can make them feel unsure about the technology," he said.
"We, (Indonesian researchers, ed) should get out of this situation. Because, it can be an effort to dwarf the development of stem cell technology, " he added. (*)
FROM the left, Head of UNAIR Stem Cell Research and Development Center (P3SC) Dr. Purwati dr., Sp.PD .; Vice Rector II, Dr. Muhammad Madyan, SE., M.Si., M.Fin .; Rector, Prof. Dr. Mohammad Nasih SE., MT, Ak., CMA .; Presidential Chief of Staff, Moeldoko, Vice Rector I Prof. Dr., Djoko Santoso Ph.D., K-GH., FINASIM .; and UNAIR Secretary Drs. Koko Srimulyo, M.Si. after having discussion on UNAIR stem cell research at Bina Graha, Jakarta, on Wednesday, July 10, 2019 (Photo: By courtesy)