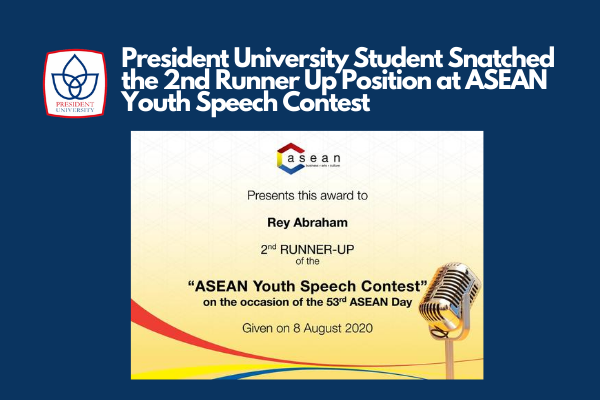 Rey Abraham, International Relations student batch 2018 secured a second runner-up position at the ASEAN Youth Speech Contest that was held by C Asean as a part of the celebration of ASEAN's 53th anniversary.
Competing with other 92 participants from 8 other ASEAN countries, Rey managed to advance to the final round and won the 2nd runner up position. This competition was also attended by various important figures, one of which was the Directorate General of the ASEAN Affairs Department of the Ministry of Foreign Affairs of Thailand, who was also one of the judges in this competition.
The theme of the competition is "ASEAN as One is ASEAN Way". It encourages young people to voice their opinions on how to achieve the ASEAN motto "One Vision, One Identity, One Community" from their perspective.
"In this competition, the Dream of ASEAN Youth is important. There are many differences amongst ASEAN members, including but not limited to inequality. There are some countries that have good economic growth, while some are still struggling with poverty and high crime rates. There are several countries that have good education systems, while some still experience difficulties in accessing education in rural areas," said Rey when explaining the background to the problems faced by ASEAN countries.
Rey hopes that the speech he delivered can inspire the ASEAN community to unite and help each other in solving problems faced by fellow members of ASEAN.Indonesia