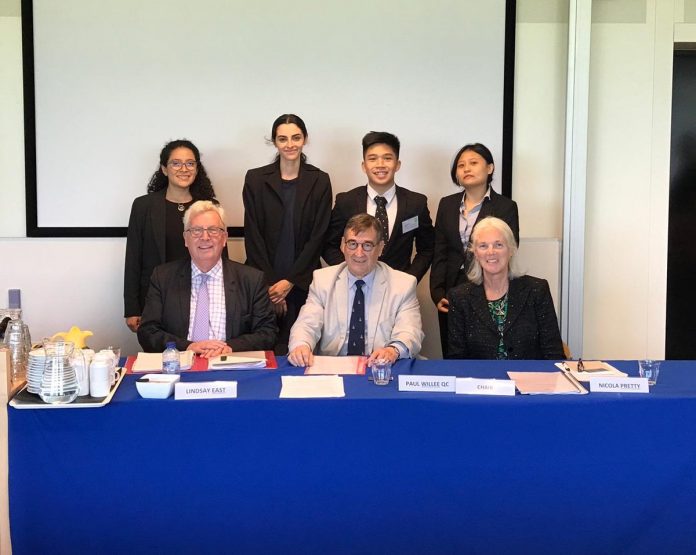 Participating in the most prestigious maritime mootcourt competition in the world that was held at 1-5 July 2019 in Rotterdam is a challenging yet rewarding experience for the delegation sent by President University Law School, Marie Dame C. Simanjuntak (Law 2016), Natalia Eliana Bato (Law 2016) and Reynaldo Arya (Law 2018).
Mootcourt is a simulation of trial proceedings, where the participants will have to think, act and behave as a lawyer protecting the interest of their clients. Universities encourage their students to participate in mootcourts, as it will train the capability of the students in applying the law in a real situation, a skill desired by lawfirms, companies, and government.
Similarly, International Maritime Law Arbitration Moot (IMLAM) emphasize on the cases concerning commercial maritime disputes. Throughout the 20 years of the competition history, the topic each year will differ from one another, whereas this year topic revolves around charterparties, a contract of ship-leasing. Furthermore, as the jurisdiction that applies in the competition is English law, the participants, regardless of their country origin, will be required to study and research commercial maritime law of England.
"Joining IMLAM was a great opportunity for law students to get exposure to the international environment as well as to the atmosphere shared with top students from all around the world. It also enhanced their research, writing and analytical skills in addition to training their public speaking skills and confidence as future legal practitioners," said Ulya Yasmine Prisandani, Coach of President University IMLAM Team.
This moot-competition that was participated by universities across 30 countries was proven to be very competitive especially towards newcomer team such as President University, however, the delegates were able to prevail over other universities with illustrious history on an international scale, namely the National Autonomous University of Mexico.
"Though it is very surprising for us as a newcomer to go against the best university in Mexico, we are very optimistic to compete with them, we believe that our months worth of research will not be wasted, and the results shows," said Reynaldo Arya.
Photo credit: twitter.com/IMLAMMurdoch